Chiltern Railways
From Academic Kids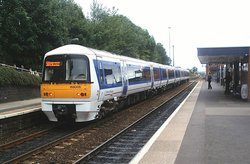 Chiltern Railways is a train operating company in England. It operates train mainline services from Marylebone station in London, to Aylesbury and Birmingham Snow Hill.
The London to Birmingham route used by Chiltern Railways goes via High Wycombe, Bicester, Banbury, Leamington Spa, Warwick and Solihull. The line to Aylesbury via Amersham shares tracks with London Underground's Metropolitan Line between Harrow-on-the-Hill and Amersham.
Some trains continue beyond Birmingham Snow Hill station to Stourbridge Junction or Kidderminster, where the preserved steam Severn Valley Railway starts at the adjacent Kidderminster Town station. On certain summer weekends special services are extended from Aylesbury to the Buckinghamshire Railway Heritage Centre facilities at Quainton Road, a short way south of Verney Junction.
Missing image
121020_at_Bewdley.JPG
A shuttle service operates on the branch line from Aylesbury to Princes Risborough on the line to Birmingham via High Wycombe. Certain services from Marylebone via High Wycombe also provide a limited through service to Aylesbury.
Chiltern Railways operates services using a modern fleet of Class 165 "Turbo" and 168 "Clubman" units. The "Turbo" units are currently undergoing refurbishment work at Bombardier's Ilford Works. Chiltern also operates a single Class 121 "Bubble Car" on its Aylesbury to Princes Risborough shuttle. This unit was extensively refurbished, and provides cover for "Turbo" units away undergoing refurbishment.
External links