Cheerleading
From Academic Kids
Cheerleading is recreational activity and sometimes competitive sport involving organised routines including elements of dance and gymnastics to encourage crowds to cheer on sports teams. It is most popular in the United States, where it originated as an organized activity. A cheerleading performer is a cheerleader.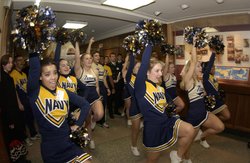 History
Evolving in (all-male) colleges in the late 19th and early 20th centuries purely as attempts to encourage crowds at their sporting competitions to cheer, the practice spread and became largely a female activity as time progressed. A significant factor was limited availability of female collegiate sports. Organised cheerleading contests were formed; most high schools around the U.S.A. had formed cheerleading squads by the 1950s. Today cheerleading competitions are a ubiquitous feature of American public schools and universities as well as American professional football. State and national championships for school and college teams are common, and top squads take their routines extremely seriously.
Performance elements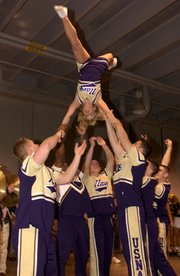 Motions/Jumps
Common cheerleading motions are high V, low V, half-high and half-low Vs, diagonals, K's, L's, T's, broken T's, touchdowns, low touchdowns, tabletops, and punches.
Toe touch is a jump with legs straddled and the arms in a T motion. This is the most common cheerleader jump.
Hurdler The free leg is either forward (a front hurdler), or sideways (a side hurdler.) The bent knee points downward.
Pike is among the most difficult of jumps. Both legs are straight out, knees locked. Arms are stretched forward to create a folded position in the air. This is often performed at a ninety-degree angle to the audience in order to show off the air position.
Herkie, named for Lawrence Herkimer, the founder of the National Cheerleader's Association, is similar to the hurdler, except that there are no front herkies and the bent knee is out sideways.
Double nine is a jump similar to a pike except one leg and one arm are bent in to form two "nines".
The most common approach to a jump is the "prep" jump. On counts 1-2 arms are clasped, knees are together and bent. On 3-4, stand up on toes and raise arms in high V. Swing arms around in front and jump on 5-6, stand stationary and stand up on 7-8. Other approaches include power, banana, and double whip (actually two or more jumps.)
Quite a few moves are borrowed from dances (Breakdancing/Hip Hop) and acrobatics (e.g., Cartwheel). Others are made up by the cheerleading coach or the cheerleaders themselves.
Stunts/Tumbling
a Mount is a cheerleading stunt that involves 2 or more persons to form a type of "stunt" holding the girl or guy (typically a girl) in the air on either one or two feet.
Flyers are cheerleaders held or thrown by others into the air. Bases or mounts hold and throw them. Backspots are cheerleaders who stand behind the flyer and the bases that have two duties: 1. To make sure that the stunt does not fall and to help catch the flyer if it does fall and 2. To help the bases by lifting some of the flyer's weight, making the stunt more stable and less heavier for the bases.
Modern Pyramids are actually connected mounts (the flyers hold each other's hands or feet while in the air).
Stunts that groups perform include bow-and-arrows, heel stretches, scales, liberties, scorpions, the Matrix, basket tosses, elevators, and cupies
In competition and most college level cheerleading tumbling is a requirement. The basic tumbling is a cartwheel or a round off. The more difficult skills come when you a back hand springs and round off back hand springs. There are also back tucks, layouts, and layout twists.
Cheers/Chants
Every team has their "signature" cheers and chants. They tend to differ by sport cheered for. (e.g., basketball or football.) Most of the time the cheerleaders and coaches come up with these cheers/chants, although there are a few professional cheerleaders who specialize in this area, such as Krazy George Henderson.
Competitive Cheerleading
Competitive Cheerleading (also called "all-star") involves a squad of anywhere between 2-40+ females and/or males that are completely dedicated to cheerleading. The squad prepares year-round, but they only actually perform for 2 1/2 minutes in their competitions. During those few minutes on the floor a squad covers everything from stunting to tumbling to dancing.
Competitive cheerleaders are placed into divisions which are grouped based on age and difficulty. Judges at the competition watch for illegal moves from the group (or any of its members). Here, an illegal move is something that is not allowed in your division. More generally, judges look at how well stunts went up and came down, how sharp the dancing was, how varied the tumbling passes were, how well the group members entered and exited, and how loud the cheer was. They use these criteria to place cheerleaders within their divisions.
There are dozens of different competitions per season. Companies that run them include AmeriCheer, US Spirit, Universal Cheerleading Association (UCA), National Cheerleading Association (NCA, the very first), American Cheer Power, Cheerleaders of America (COA), FCC (Fellowship of Christian Cheerleaders), rosemount invitiational US Spirit, and many more.
The squad members will all have identical uniforms, including bloomers, bows, socks, skirts, and more. No jewelry of any kind is tolerated, as it is a safety hazard and then a point deduction.
Competitive cheerleading is a major time and financial commitment, yet it is a rapidly growing sport and industry.
United Kingdom
In the United Kingdom cheerleading is traditionally seen by many as alien to British sporting culture, and some attempts to introduce it, for example in the early days of Premiership football, have been abandoned after receiving widespread derision. Nevertheless it is slowly becoming more popular. There is a British cheerleading association which holds national competitions every year. The majority of squads tend to focus on competing but there are several sports teams that have a cheerleading squad to support them. These are usually rugby league teams such as Leeds Rhinos. Cheerleaders in Britain can range from the age of six or seven, up to university students and they all mix together and compete in competitions consisting of cheer, dance and stunt categories. Mascots are often used in cheerleading troops.
External links