Blackboard
From Academic Kids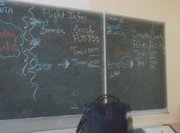 A blackboard is a reusable writing surface on which text or drawings are made with chalk or other erasable markers. Blackboards were originally made of smooth, thin sheets of black or dark grey slate stone.
A blackboard can simply be a piece of board painted with matte dark paint (usually dark green or black). A more modern variation consists of a coiled sheet of plastic drawn across two parallel rollers, which can be scrolled to create additional writing space while saving what has been written.
Missing image
Tafelkreide1.jpg
Blackboards are commonly used in teaching. The chalk marks can be quickly and easily wiped off with a damp cloth, or a special blackboard eraser consisting of a block of wood covered by a felt pad. Chalkmarks made on some types of wet blackboard can be difficult to remove.
Sticks of processed "chalk" are made especially for use with blackboards, in white and also in various colours. These are not actually made from chalk rock, but from gypsum.
Blackboards have disadvantages: they produce a fair amount of dust, depending on the quality of chalk used. Some people find this uncomfortable, or may be allergic to it, and there has been speculation about links between chalk dust and respiratory problems. However, other methods of displaying information are more expensive and have drawbacks of their own. These disadvantages have led to the widespread adoption of the whiteboard, which uses ink markers that produce no dust.
The scratching of fingernails on a blackboard is a sound that is well-known for being extremely irritating.
Blackboard Inc. is also the name of an e-learning software company.