Chalice
From Academic Kids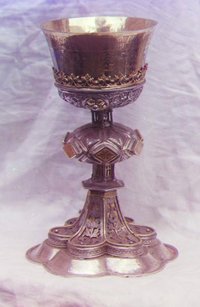 A chalice (from Latin 'calix', cup) is a goblet, intended to hold just drink. In general religious terms, it is a goblet intended for drinking some beverage from during a ceremony. In Catholicism and some other Christian sects, a chalice is a wine cup used during the eucharist for the Communion, and is used to contain the wine that is believed to become the blood of Christ. Chalices are often made of precious metal, and sometimes richly jewelled. They have been used since ancient times.
The symbol of Unitarian Universalism is a flaming chalice.
The Holy Grail is sometimes thought to have been a chalice.
External links
Chalice at the Catholic Encyclopedia (http://www.newadvent.org/cathen/03561a.htm)
The Da Vinci Chalice (http://www.davincichalice.com) Mysterious chalice in the Da Vinci Last Supper.