Central business district
From Academic Kids
For other meanings of the term downtown, see downtown (disambiguation).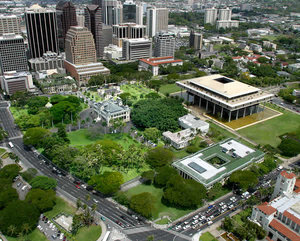 Central business district (CBD) and downtown are terms referring to the commercial heart of a city. Downtown is the usual term in North America. In the United Kingdom, Australia and New Zealand the "central business district" is used by geographers and sometimes by others, but the term city centre is much more common in everyday usage.
The CBD or downtown is the central district of a city, usually typified by a concentration of retail and commercial buildings. Although applicable to any city, both terms usually refer to larger cities.
The term city centre (or center city) is similar to CBD or downtown in that both serve the same purpose for the city, and both are seen by a higher-than-usual urban density as well as the often having the tallest buildings in a city. City centre differs from downtown in that downtown can be geographically located anywhere in a city, while city centre is located near the geographic heart of the city. Examples of a city centre can be found in Philadelphia, Houston, Pittsburgh, Baltimore, Boston, London, Toronto, Sydney, and other cities.
List of typical CBD characteristics
A CBD is likely to have many of the following characteristics:
It has a distinct land use pattern that can be delimited from the rest of the settlement.
It is the geographical centre of the settlement.
It contains the settlement's main public buildings.
It contains the major retail outlets (though this is becoming less often the case, especially in the United States).
Similar activities within it are concentrated in certain areas (functional zoning).
It features vertical zoning.
It has the greatest concentration and number of pedestrians and traffic in general.
It is a focal point for transport.
It contains the greatest proportion of the settlement's offices.
It has the tallest buildings in the region to maximimise land use.
It has the highest land values of the region.
It attracts people from outside its sphere of influence to work and spend money inside.
It is advancing into new areas (assimilation) and/or losing old commercial functions (discard).
List of CBDs and downtowns