Cemetery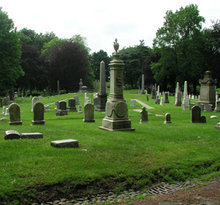 A cemetery or graveyard is a place (usually an enclosed area of land) in which dead bodies are buried. The term cemetery implies that the land is specifically designated as a burying ground. Cemeteries in the Western world are the place where the final ceremonies of death are observed. These ceremonies or rites differ according to cultural practice and religious belief.
General
From the 7th to the late 18th century, European burial was under the control of the church and on sacrosanct church ground. Bodies were buried in a mass grave until they had decomposed. The bones were then exhumed and stored in ossuaries either along the arcaded bounding walls of the cemetery or within the church under floor slabs and behind walls. Municipal or independent cemeteries, as we now know them, date from the early 19th century (though the cemetery reform movement began c. 1740). The earliest of the municipal cemeteries is Pere Lachaise in Paris. The idea of government, rather than church, controlled burial spread through Europe with the Napoleonic invasions. The shift to municipal cemeteries was usually accompanied by the movement of burial grounds outside of the city limits.
Cemeteries are usually a respected area, and often include churches or other religious buildings and sometimes a crematorium for the burning (cremation) of the dead. Cemeteries are used primarily for human burials but special cemeteries have been created for the bodies of animals such as dogs, cats and horses. These cemeteries are known as pet cemeteries. The violation of the graves or buildings is usually considered a very serious crime and punishments are often severe.
The style of cemeteries varies greatly internationally. For example, in the USA and many European countries modern cemeteries usually have many tombstones placed on open spaces. In Russia, tombstones are usually placed in small fenced family lots.
Cemeteries in cities take a lot of valuable urban space, which could become a problem, especially in older cities. Different cultures have different attitudes to destruction of cemeteries and use of the land for construction. In some countries (examples?) it is considered normal to destroy the graves, while in others the graves are traditionally respected for a century or more.
Ancient cemeteries
Many places have been found where ancient people buried their dead. These places could be an organised necropolis or they could be simple areas with highly symbolic elements around (like the Tomb of Giants in Sardinia). The Egyptian pyramids were tombs.
Missing image
CimetieredesChiens2.JPG
Cemeteries for pets
The Cimetière des Chiens in Asnières-sur-Seine in Paris, is an elaborate, sculpted pet cemetery believed to be the first zoological necropolis in the world. Rin Tin Tin, the famous dog from Hollywood films, is buried here.
Cemeteries and superstition
Missing image
Nuremberg_Johannis_Church_Cemetery_f_nw.jpg
In many countries, cemeteries are objects of superstition and legend; they are sometimes used (usually at night-time) for black magic ceremonies or similar clandestine happenings. In Haiti the traditional belief regarding zombies as practiced under Voudun religion is connected with burial rituals. It is believed that the zombified individual is buried alive in a coffin in a shallow grave after being given a dosage of tetrodotoxin from the puffer fish to slow his heart so he appears dead even to medical practitioners. After all the burial ceremonies are completed the zombie victim is then dug up and taken into servitude, usually as a punishment for some crime he committed. Some Haitians deny that these practices exist and that these kinds of voodoo practices are pure superstition.
See also
References
Missing image
JapaneseGraveyardTokyo.jpg
Colvin, Howard. Architecture and the After-Life. New Haven: Yale University Press, 1991.
Curl, James Stevens. Death and Architecture. Gloucestershire: Sutton, 2002.
Etlin, Richard A. The Architecture of Death: the transformation of the cemetery in eighteenth-century Paris. Cambridge, MA: MIT Press, 1984.
Grossman, Janet Burnett. Greek Funerary Sculpture. Catalogue of the Collection at the Getty Villa. Los Angeles: J. Paul Getty Museum, 2001.
External links
fr:Cimetière he:בית עלמין nl:Begraafplaats pl:Cmentarz pt:Cemitério sv:Kyrkogård zh:墳場