Celadon
From Academic Kids
Alternate meaning: Celadon (color)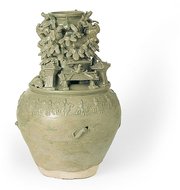 Celadon
is a type of
pottery
having a pale green
glaze
, originally produced in
Longquan
city,
Zhejiang
province,
China
.
Longquan celadon
was first produced in Longquan, around
900
AD, and the manufacture of celadon ware spread to
Korea
some 100 years later, where this style of art was further refined.
Japanese
pottery artists learned their craft from the Koreans via limited trade between the countries. Colors of the celadon glaze range from blue, blue-green through many shades of green, and finally to a dark grey, depending on the thickness of the applied glaze, and the type of clay to which it is applied. Its color is produced by
iron
oxide
in the glaze recipe or clay body. It was usually fired in a
reducing atmosphere
within a fuel
kiln
. As with most glazes, crazing (a glaze defect) can occur in the glaze and if it is desirable it is referred to as crackle glaze.
The term celadon for the pottery's pale Jade-green glaze was first applied by European connoisseurs to the wares when Longquan celadon appeared in France in the 17th century. In Honoré d'Urfé's (1567-1625) French pastoral romance, L'Astrée (1627), one of the shepherds was named Celadon, and the refined simplicity of Arcadia was applied to the ceramics.
See also: Culture of Korea
---
Celadon is also the name of a trucking company based in Indianapolis, Indiana, serving the United States and other parts of North America.