Castlefield
From Academic Kids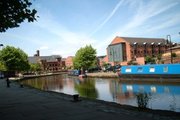 Castlefield in Manchester, UK was a site where the Roman Empire established a fort. A facsimile of part of this Roman fort still exists. The name Castlefield is a short form of 'Castle in the field'. This designation was used after the Romans abandoned the fort around 410 and the castle was literally left decaying in the fields. The designation 'The Castle-in-the-field' was in use in the Middle Ages, but eventually came to be abbreviated to Castlefield, as it is in use now.
The area was once a site of warehouses around the basins still found in Castlefield. These warehouses were later abandoned and the area became a derelict place where the Bridgewater Canal meets the Victorian railway viaducts.
After lying in disused for years, Castlefield became the UK's first designated Urban Heritage Park. This was motivated by the fact that a great deal of Manchester's industrial heritage was still intact in Castlefield. The juxtaposition of the railway viaducts and the canal systems was regarded as attractive.
Most of the buildings have now either been restored to their former glory or renovated. Many warehouses have been converted in modern apartments (warehouse flats). Numerous archaeological digs have taken place and revealed a great deal about the early history of the city. Recently there have been new developments to accompany the converted warehouses.
The Castlefield Carnival takes place annually in September. This involves live music, a canal boat rally and street theatre, attracting many families. The Manchester Museum of Science and Industry is located in the area, as are the studios of Granada Television and the now closed Granada Studios Tour. Castle Quay in Castlefield is home of radio stations Key 103 and Piccadilly Magic 1152.