Caryatid
From Academic Kids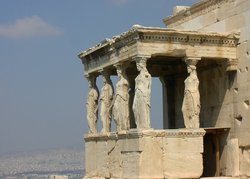 A caryatid is a sculpted female figure serving as an architectural element such as a column or a pillar supporting an entablature on its head.
The earliest known examples were found at Delphi, dating to about the 6th century BC, but the best-known and most-copied examples are those of the six figures of Caryatid Porch of the Erechtheion on the Acropolis at Athens. One of those original six figures is now in the British Museum.
The Romans also copied the Erechtheion caryatids, installing copies in the Forum Augustum and the Pantheon in Rome, and Hadrian's Villa at Tivoli.
In modern times, the practice of integrating caryatids into building facades was revived in the 19th century by neoclassical architects. Among the most famous examples is the copy of the porch on the 1822 Saint Pancras Church in London, which includes four terra cotta figures, and the many caryatids lined up on the facade of the 1893 Museum of Science and Industry in Chicago.
The origins of the term are unclear. It is first recorded in the Latin form caryatides by the Roman architect Vitruvius, who stated in his 1st century BC work De architectura that the female figures of the Erechtheion represented the punishment of the women of Caryae, a town near Sparta in Laconia, which betrayed Athens in its wars with Persia. The Greek term karuatides literally means "maidens of Karuai" or Caryae.
However, female figures were used as decorative supports in Greece and the ancient Near East well before the Persian Wars, casting doubt on Vitruvius' explanation. Caryae had a famous temple dedicated to the goddess Artemis in her aspect of Artemis Caryatis. The Erectheion caryatids may therefore represent priestesses of Artemis.
The male counterpart of a caryatid is referred to as a telemon or Atlas (plural, atlantes). A caryatid supporting a baskets on her head is called a canephora.
External links