Carriage
From Academic Kids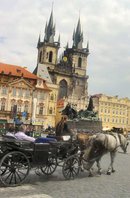 The classic definition of a carriage is a four-wheeled horse-drawn private passenger vehicle with leaf springs (elliptical springs in the 19th century) or leather strapping for suspension, whether light, smart and fast or large and comfortable. Compare the public conveyances stagecoach, charabanc, and omnibus.
A vehicle that is not sprung is a wagon. A buckboard or Conestoga wagon or "prairie schooner" was never taken for a carriage, but a waggonette was a pleasure vehicle, with lengthwise seats.
The word car meaning "wheeled vehicle," came from Norman French at the beginning of the 14th century; it was extended to cover automobile in 1896.
In British English a railway carriage (also called a coach) is a railroad car designed and equipped for conveying passengers.
In American English, a baby carriage is a wheeled conveyance for reclining infants (British English perambulator or pram), usually with a hood that can be adjusted to protect the baby from the sun.
In some parts of New England, a carriage (or shopping carriage) is sometimes a shopping cart.
History of carriages
In the Middle Ages all travellers who were not walking rode, save the elderly and the infirm. A trip in an unsprung cart over unpaved roads was not lightly undertaken. Closed carriages began to be more widely used by the upper classes in the 16th century, and better sprung vehicles were developed in the 17th century. New lighter and more fashionably varied conveyances, with fanciful new names, began to compete with one another from the mid-18th century. Coachbuilders cooperated with carvers and gilders, painters and lacquerworkers, glazers and upholsterers to produce not just the family's state coach for weddings and funerals but light, smart fast comfortable vehicles for pleasure riding and display.
In British and French coaches, the coachman drove from a raised coachbox at the front. In Spain the driver continued to ride one of the horses.
From the 1860s, few rich Europeans continued to use their posting coaches for long-distance travel: a first-class railway carriage was the faster modern alternative. Then, in the 1890s, just as automobiles came into use, "coaching" became an upper-class sport in Britain and American, where gentlemen would take the reins of the kinds of large vehicles of types generally driven by a professional coachman.
Types of horse-drawn carriages
Missing image
Wien_Stefansdom_fiaker_DSC02643.JPG
Some of the names for types of carriages have been adopted to describe automotive car body styles, while others are now the trivia of history: coupé, victoria, Brougham, landau and landaulet, cabriolet, (giving us our cab), phaeton, and limousine— all once denoted particular models of carriages. So did the unfamiliar calèche or calash), berline, diligence, britzska, surrey, and barouche and the open vis-à -vis similar to a landau (see illustration above).
Two-wheeled conveyances went by other names: gig, Hansom cab, chaise (corrupted to shay), sulky, and trap. A buggy might have two wheels or four, with a minimal, inexpensive body (a "piano-box buggy").
Other types are:
Carriage collections
Kunsthistorisches Museum, Vienna
Long Island Museum, Stony Brook, Long Island, New York
Coson Collection, Beechdale, Pennsylvania
Versailles, the Grand Stables
Carriage Museum of America
Smithsonian's National Museum of American History
External links
References