Caroline Islands
Do not confuse the Caroline Islands with Caroline Island, part of Kiribati (Southern Line Islands), also in the central Pacific Ocean.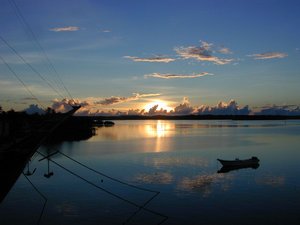 The Caroline Islands form a large archipelago of widely scattered islands in the western Pacific Ocean, northeast of New Guinea. Politically they presently sub-divide into the Federated States of Micronesia in the eastern part of the group, and Palau at the extreme western end. Most of the islands comprise low, flat coral atolls, but some rise high above sea level.
History
The Portuguese Diego da Rocha, the first European explorer of the Carolines, named them the Sequeira Islands in 1527. Though early Spanish navigators in the area (from 1543) called them the New Phillippines, Admiral Francisco Lazeano named them the Carolines after the Spanish King Charles II in 1686.
Some few Western travellers subsequently visited the islands, but an early visit of missionaries (1731) resulted in one of several murderous attacks on the interlopers; and only in 1875 did Spain, claiming the group, make some attempt to assert her rights. Germany, which had occupied Yap, disputed the Spanish claim, and the matter went to the arbitration of Pope Leo XIII in 1885. He decided in favor of Spain, but gave Germany free trading rights. The Spanish did not occupy any island formally until 1886.
Then in 1899, after the Spanish-American War of 1899, Spain sold the islands to Germany for 25,000,000 pesetas (nearly 1,000,000 pounds sterling). Japan occupied the islands in 1914 and received a League of Nations mandate over them in 1920, but after World War II the islands became trust territories of the United States, eventually gaining independence (1986 / 1994).
Postage stamps
In their first year as a German possession, the Carolines used postage stamps of Germany overprinted "Karolinen". Few examples of these survive today, especially in cancelled condition. In 1901, Germany issued its "Yacht" series with a common design for all of Germany's colonies, featuring the Kaiser's yacht Hohenzollern. The issues for the Carolines featured the inscription "KAROLINEN", all with mark and pfennig denominations. Many unused copies of the low values still exist today, left over after the Japanese occupation, but as one might expect from the short period of German rule and the very small numbers of letter-writers living in the Carolines, genuinely used stamps are both uncommon and prized.da:Carolinerne de:Karolinen ja:カロリン諸島 nl:Carolinen pl:Karoliny