Carnegie library
From Academic Kids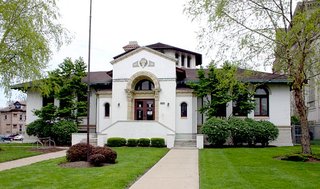 Carnegie libraries for both public use and academic institutions were built with money donated by American businessman Andrew Carnegie, earning him the nickname, the Patron Saint of Libraries. Of the 2,509 funded between 1883 and 1929, 1,689 were built in the United States, 660 in Britain and Ireland, 156 in Canada, and others in New Zealand, the Caribbean, the West Indies and Fiji. Very few towns that requested a grant and agreed to his terms were refused. When the last grant was made in 1919, there were 3,500 libraries in the United States, nearly half of them paid for by Carnegie.
In the early 20th century, a Carnegie library was the most imposing structure in hundreds of small communities from Maine to California. Contrary to the belief of many people, most of the library buildings were unique, displaying a number of different Beaux-Arts and other architectural styles, including Italian Renaissance, Classical Revival and Spanish Colonial. Each style was chosen by the community and was typically simple and formal, welcoming patrons to enter through a prominent doorway. Outside virtually every branch, a lamp post or lantern symbolized enlightenment. See also: Carnegie libraries image gallery
The first of Carnegie's public libraries opened in his hometown, Dunfermline, Scotland, in 1883. As with most of the others, contrary to common perception, his name did not appear on the building. Rather, he had a motto -- "Let there be light" -- inscribed over the entrance. His first library in the United States was built in 1889 in Braddock, Pennsylvania, home to one of the Carnegie Steel Company's mills.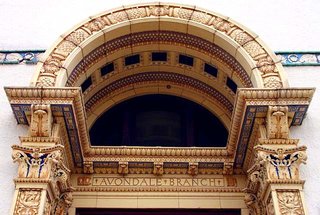 Self-Improvement through Learning
Books and libraries were always an important part of Carnegie's life, beginning with his childhood in Scotland. There he listened to readings and discussions of books from the Tradesman's Subscription Library that his father helped create. Later, in the United States, while working for the local telegraph company in Allegheny, Pennsylvania, he borrowed books from the personal library of Colonel James Anderson, who opened the collection to his workers every Saturday. In his autobiography, Carnegie credited Anderson with providing an opportunity for "working boys" (that some said should not be "entitled to books") to acquire the knowledge to improve themselves. (Andrew Carnegie: A Tribute: Colonel James Anderson, Carnegie Library of Pittsburgh [1] (http://www.clpgh.org/exhibit/anderson.html))
Carnegie's personal experience as an immigrant who, with help from others, worked his way into a position of wealth reinforced his belief in a society based on merit where anyone who worked hard could become successful. This conviction was a major element of his philosophy of giving in general, and of his libraries as its best known expression.
Fields for philanthropy
Carnegie believed in giving to the "industrious and ambitious; not those who need everything done for them, but those who, being most anxious and able to help themselves, deserve and will be benefited by help from others." (Andrew Carnegie, "The Best Fields for Philanthropy," The North American Review, Volume 149, Issue 397, December, 1889 [2] (http://cdl.library.cornell.edu/cgi-bin/moa/moa-cgi?notisid=ABQ7578-0149-83)) His other stated "best fields" for donating surplus wealth were universities, health care institutions, public parks, assembly halls, public swimming pools, and churches.
Nearly all of Carnegie's libraries were built according to "The Carnegie Formula" which required the town that received the gift to:
demonstrate the need for a public library;
provide the building site; and
annually provide ten percent of the cost of the library's construction to support its operation.
The amount of money donated to most communities was based on U.S. Census figures and averaged approximately $2 per person. While there were some communities that refused to seek a grant, considering Carnegie's money to be tainted by his business practices, or disdaining the libraries as memorials to himself, the mailbox of James Bertram, Carnegie's personal secretary who ran the program, was always full of requests.
The impact of Carnegie's philanthropy was maximized by its perfect timing. It came during the peak of library expansion in the US. By 1890, many states had begun to take an active role in organizing public libraries, and the new buildings filled a tremendous need. Interest in libraries was heightened at a crucial time in their early development by Carnegie's high profile and his genuine belief in their importance. (Bobinski, p. 191)
Self-service stacks
Missing image
Carnegie_lib_interior.jpg
"The Carnegie libraries were important because they had open stacks which encouraged people to browse....People could choose for themselves what books they wanted to read," according to Walter E. Langsam, an architectural historian and teacher at the University of Cincinnati. Before Carnegie, patrons had to ask a clerk to retrieve books from closed stacks. (Al Andry, New Life for Historic Libraries, The Cincinnati Post, October 11, 1999 [3] (http://www.cincypost.com/news/1999/carn101199.html))
Continuing legacy
While hundreds of the library buildings have been repurposed -- as museums, community centers, office buildings and residences -- or destroyed, more than half of them still serve their communities, many in middle-to-low income neighborhoods, over a century after their construction. For example, Carnegie libraries still form the nucleus of the New York Public Library system in New York City, with 31 of the original 39 buildings still in operation.
Distribution of U.S. Carnegie libraries in 1920
Alphabetical by State
Ranked by Number

---

---

Alabama
14
Indiana
165
Alaska
0
California
142
Arizona
4
Illinois
106
Arkansas
4
New York
106
California
142
Ohio
106
Colorado
36
Iowa
101
Connecticut
11
Nebraska
69
Delaware
0
Minnesota
64
District of Columbia
4
Wisconsin
63
Florida
10
Michigan
61
Georgia
24
Kansas
59
Hawaii
1
Pennsylvania
59
Idaho
10
Washington
44
Illinois
106
Massachusetts
43
Indiana
165
Colorado
36
Iowa
101
New Jersey
36
Kansas
59
Missouri
33
Kentucky
23
Texas
32
Louisiana
9
Oregon
31
Maine
18
South Dakota
25
Maryland
14
Georgia
24
Massachusetts
43
Oklahoma
24
Michigan
61
Kentucky
23
Minnesota
64
Utah
23
Mississippi
11
Maine
18
Missouri
33
Montana
17
Montana
17
Wyoming
16
Nebraska
69
Alabama
14
Nevada
1
Maryland
14
New Hampshire
9
South Carolina
14
New Jersey
36
Tennessee
13
New Mexico
3
Connecticut
11
New York
106
Mississippi
11
North Carolina
10
Florida
10
North Dakota
8
Idaho
10
Ohio
106
North Carolina
10
Oklahoma
24
Louisiana
9
Oregon
31
New Hampshire
9
Pennsylvania
59
North Dakota
8
Rhode Island
0
Arizona
4
South Carolina
14
Arkansas
4
South Dakota
25
District of Columbia
4
Tennessee
13
Vermont
4
Texas
32
New Mexico
3
Utah
23
Virginia
3
Vermont
4
West Virginia
3
Virginia
3
Hawaii
1
Washington
44
Nevada
1
West Virginia
3
Alaska
0
Wisconsin
63
Delaware
0
Wyoming
16
Rhode Island
0
See also
References
External links