Carl Peter Thunberg
From Academic Kids
Missing image
Flora_Japonica.cropped.jpg
Flora Japonica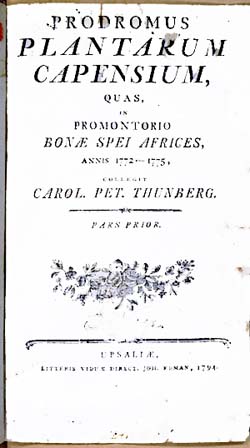 Carl Peter Thunberg (November 11, 1743 - August 8, 1828) was a Swedish naturalist. He has been called "the father of South African botany" and the "Japanese Linnaeus".
Thunberg was born at Jönköping, and became a pupil of Carolus Linnaeus at Uppsala University. There he studied natural philosophy and medicine and took his degree in 1767. In 1770 he left Sweden for Paris, to continue his studies in medicine and natural history.
In 1771, during a stay in Amsterdam and Leiden, he studied their botanical gardens and musea. He was offered to visit the Dutch colonies and Japan to collect specimens for Dutch botanical gardens. He left in December 1771 as the ship's surgeon in the Dutch East India Company. After his arrival at Cape Town, Cape Colony, he stayed there for three years to learn the Dutch language and be able to pass himself off as a Dutchman, as Japan at that time was only open to protestant Dutch merchants. He also became a doctor of medicine. During his three, often dangerous, expeditions in the interior, he collected quite a number of specimens of both flora and fauna.
Thunberg then sailed to Java in March 1775. He stayed in Batavia for two months.
In August 1775 he arrived at the Dutch factory of the V.O.C. (Verenigde Oost-Indische Compagnie) at Dejima, a small artificial island (120 m by 75 m) in the Bay of Nagasaki, connected to the city by a landfill. He was appointed head surgeon (1775-1776) of this trading-post. But, just as the Dutch, he was hardly allowed to leave the island. Nevertheless, he was one of the few to be allowed to conduct some botanical research ashore.
In order to obtain more specimens, he traded his knowledge of European medicine with Japanese interpreters for new specimens. In mid 1776, at last, he was allowed to accompany the director of the Dutch settlement to the shogun in Edo (the old name of Tokyo). During this slow travel, he was able to collect many Japanese plants. His scientific activities resulted in the first detailed description of the flora and fauna of Japan: "Flora Japonica". Many of the plants, which he gave the epithet "japonica" were actually Chinese plants, imported in Japan. And many plants, he described as living in the wild, were actually garden plants.
He also wrote about his adventures on his trip to Japan and about his stay in the book "Voyages de C.P. Thunberg au Japon par le Cap de Bonne-Espérance, les Isles de la Sonde, etc." ("Voyages of C.P. Thunberg to Japan, along the Cape of Good Hope, the Islands of Sunda etc."). He sketched a sombre view of his stay at Dejima. In this book he also sketches several aspects of daily life in Japan (such as obligatory walking on the left side of the road).
Thunberg left Japan in November 1776. After a short stay in Java, he arrived at Colombo, Ceylon (now Sri Lanka) in July 1776. He made several travels, such as the one to the Dutch settlement at Galle, and collected a great number of plants.
In February 1778, Thunberg left Ceylon for Amsterdam, passing by at the Cape and staying there for two weeks. He finally arrived at Amsterdam in October 1778.
He returned to Sweden in 1779. But first he made a short trip to London and made the acquaintance of Sir Joseph Banks. He saw there the Japanese collection from 1680's of the German naturalist Engelbert Kaempfer (1651-1716), who had preceded him at Dejima. He also met Forster, who introduced him to his collections he had obtained during Cook's second voyage.
On arrival in Sweden in March 1779, he was informed of the death of Linnaeus, one year earlier. He was first appointed botanical demonstrator in 1777, and in 1781 professor of medicine and natural philosophy at the University of Uppsala. His publications and specimens resulted in many new taxa.
He published his Flora japonica in 1784, and in 1788 he began to publish his travels. He completed his Prodomus plantarum in 1800, his Icones plantarum japonicarum in 1805, and his Flora capensis in 1813. He published numerous memoirs in the transactions of many Swedish and other scientific societies, of sixty-six of which he was an honorary member.
He died at Thunaberg near Uppsala on August 8, 1828.
A genus of tropical plants (Thunbergia, family Acanthaceae), which are cultivated as evergreen climbers, is named after him.
Thunberg is cited in naming some 254 species of both plants and animals (though significantly more plants than animals). The standard botanical author abbreviation Thunb. is applied to species he described.
Selected publications
Flora Japonica (1784)
Edo travel accompaniment.
Prodromus Plantarum Capensium (Uppsala, 1794).
Flora Capensis (1807, 1811, 1813, 1818, 1820, 1823)
Voyages de C.P. Thunberg au Japon par le Cap de Bonne-Espérance, les Isles de la Sonde, etc.
Icones plantarum japonicarum (1805)fr:Carl Peter Thunberg