Carbonated water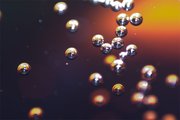 Carbonated water, also known as soda water, sparkling water, or seltzer water, is water containing carbon dioxide, which bubbles out when the drink is depressurised. When bottled or supplied for final consumption without flavoring, it may be called club soda.
Joseph Priestley first discovered a method of impregnating water with carbon dioxide when he placed a bowl of water above a vat of fermenting beer at a local brewery in Leeds. The carbon dioxide given off by the beer, which Priestley called 'fixed air' and had been discovered and named 'mephitic air' by Joseph Black, soon became dissolved in the water. Priestley found that the impregnated water developed a pleasant sweet acidic taste and he began to offer the treated water to friends as a refreshing drink. In 1772 Priestley published a paper entitled Impregnating Water with Fixed Air in which he described a process of dripping sulphuric acid (or oil of vitriol as Priestley knew it) onto chalk in order to produce carbon dioxide and forcing the gas to disolve by agitating a bowl of water in contact with the gas.
Independently, Swedish chemistry professor Torbern Bergman succeeded in inventing another process to make carbonated water by the action of sulphuric acid on chalk in 1771, mostly to save himself money when he was ill. He was trying to imitate the naturally-occurring effervescent water that bubbles up from underground springs and was thought to be beneficial to health.
Currently, carbonated water is made by passing pressurized carbon dioxide through water. This increases the solubility; that is, more carbon dioxide dissolves than under standard atmospheric pressures. When the pressure is reduced by opening the bottle, the gas comes out of the solution, forming the characteristic bubbles.
Carbonated water is believed by some to be good for removing stains, for example coffee stains from mugs, or stains from silver. A frequently used method of preventing red wine stains from setting in is to sprinkle salt on the stain and then apply a liberal amount of carbonated water. Schweppes manufactures unflavoured "soda water", adding to it sodium bicarbonate, thus acting as a weak antacid.
Seltzer water was once commonly sold in small bottles with a metal handle on the side to control the dispensing of the contents. Since the carbonation in the water pressurizes the seltzer bottle, the liquid is propelled out as a stream. The bottles became a common feature of slapstick comedy of clowns and vaudeville performers along with the cream pie.
The most popular forms are flavored, and referred to as soft drinks. These are widely sold throughout the world, often as a mixer for alcoholic beverages. Major brands include Coca-Cola, Pepsi, R.C. Cola, and Dr Pepper. Many sales of these beverages are made via vending machines although they were originally made to order from soda water and syrup at soda fountains in drug stores.
See Also
External Links