Cao Dai
From Academic Kids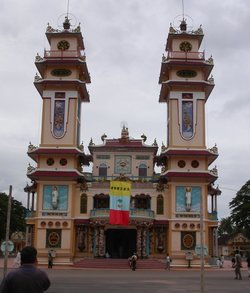 Cao Dai (Cao Đài) meaning "high place" is a religion founded in 1926 in Tay Ninh, southern Vietnam, by Ngo Van Chieu, an official in the French colonial government, who claimed to have received direct communications from God, ordering him to combine various religions, some from the East and some from the West.
Caodaists believe that there is only one God, the same one who created all the major religions of the world such as Christianity, Islam, Hinduism, Confucianism, and Spiritualism.
Adherents engage in ethical practices such as prayer, veneration of ancestors, nonviolence, and vegetarianism with the goal of, minimally, obtaining a favorable rebirth, or, better yet, entering heaven, or, ultimately, escape from the cycle of birth and death. The Saints, or guiding spirits revered in Cao Dai are Jesus, Buddha, Muhammad, Confucius, Julius Caesar, Joan of Arc, Pericles, Republic of China founder Sun Yat Sen, Vietnamese poet Nguyen Binh Khiem, and French author Victor Hugo . The latter three are depicted in a famous Cao Dai painting, signing a covenant with God.
God is symbolized by the Divine Eye, specifically the left eye.
The faith has a hierarchical organization resembling that of the Roman Catholic Church, with a pope, cardinals, bishops, and priests. Ordained women may attain ranks up to cardinal.
Missing image
Cao-dai-monks-and-priest.jpg
Followers of Cao Dai believe that its teachings, symbolism and organization were communicated directly from God, and even the construction of the Tay Ninh Holy See had divine guidance.
Cao Dai currently has an estimated seven to eight million adherents in Vietnam, and an additional 30,000 (primarily ethnic Vietnamese) in the United States, Europe, and Australia.
External Links
Cao Dai site (http://www.caodai.org)
Cao Dai (http://www.tuvy.com/Countries/vietnamese/people/cao_dai.htm)
FEATURE: Cao Dai (http://www.pbs.org/wnet/religionandethics/week644/feature.html)
de:Caodaismus es:Cao Dai ja:カオダイ教 pl:Kaodaizm sv:Cao Dai vi:Đạo Cao Đài