Campanile
From Academic Kids
Missing image
Venicecamp.JPG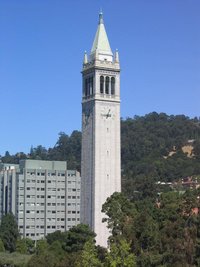 Missing image
ISU_campanile.jpg
A campanile (pronounced []) is, especially in Italy, a free-standing bell-tower (Italian campana, 'bell') adjacent to a church or cathedral, but not always.
The most famous campanile is probably the Leaning Tower of Pisa. Other notable campaniles include St Mark's Campanile in Venice's St Mark's Square.
Modern campaniles often contain carillons, a musical instrument traditionally comprised of large bells which are sounded by cables, chains, or cords connected to a keyboard. These can be found at some college and university campuses. In modern construction, rather than using heavy bells the sound may be produced by the striking of small metal rods whose vibrations are amplified electronically and sounded through loudspeakers.
List of campaniles
This is a list of campaniles found on Wikipedia:
Other Uses
Campanile is also the name of the Palo Alto High School newspaper.
External links