Brittany Murphy
From Academic Kids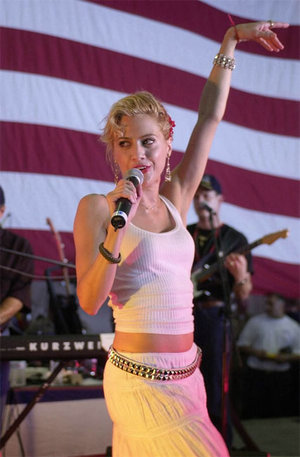 Brittany Murphy
(born Brittany Anne Murphy
November 10
,
1977
) is an
American
actress
who is perhaps best known for her performance as
Tai Frazier
in
Clueless
.
Murphy was born in Atlanta, raised in Edison, New Jersey and from there, to Burbank, California, with her mother, who had divorced her father when Murphy was young. When she was nine years old, she landed a singing role on Les Misérables, and by the time she was 13, she already had a manager. Murphy landed her first job at Hollywood when she was 14, she had a starring role as Brenda Drexell in Drexell's Class. She is currently the voice of Luanne Platter of the long-running animated series King of the Hill, and previously provided the voice of Joseph Gribble (1997-2000) before Breckin Meyer took over as the voice of a pubescent Joseph Gribble.
She is the new spokesmodel for Jordache jeans.
Filmography
Blossom (1990, television series)
Sister, Sister (1994-1995, television series, alongside Tia and Tamera Mowry).
Clueless (1995, alongside Alicia Silverstone)
Drive (1996)
Double Jeopardy (1996, television)
King of The Hill (1997, television cartoon, as voice)
Bongwater (1998)
Phoenix (1998)
Zack and Reba (1998)
David and Lisa (1998, television)
Falling Sky (1998)
The Devil's Arithmetic (1999, television)
Drop Dead Gorgeous (1999, alongside Kirstie Alley)
Girl, Interrupted (1999, alongside Winona Ryder)
Common Ground (2000, television)
Trixie (2000)
Cherry Falls (2000)
Summercatch (2001)
Riding in Cars With Boys (2001)
Don't Say a Word (2001)
Uptown Girls (2003)
Happy Feet (voice) (2006)
Murphy has been listed, for three years in a row, among the best 5 autograph signers in Hollywood by autograph magazine Autograph Collectors. Her trademark is a high, cracking voice, and she seems to be typecast often as the "dippy blonde" or a troubled adolescent.
External links