From Academic Kids
Bouches-du-Rhône is a département in the south of France named after the mouth of the Rhône River.
History
Bouches-du-Rhône was one of the original 83 départements created during the French Revolution on March 4, 1790. It was created from part of the former province of Provence and the principalities of Orange, Martigues, and Lambesc. It lost part of its territory in 1793, including Orange and Apt, when the Vaucluse département was created.
Marseille has been an important harbor since before Julius Caesar's conquest of Gaul.
Geography
The département is part of the current région of Provence-Alpes-Côte d'Azur. It is surrounded by the départments of Gard on the west, Vaucluse on the north, and Var on the east, and by the Mediterranean Sea on the south.
Marseille is an important harbor.
Other significant cities include:
Rivers include:
Mountains include:
Culture
The département is well represented in French art. Paul Cézanne painted numerous representations of the Mont Sainte-Victoire. Vincent van Gogh spent much of his life in Aix-en-Provence, painting many scenes in the area.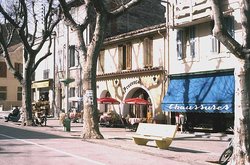 Tourism
External links
da:Bouches-du-Rhône de:Bouches-du-Rhône fr:Bouches-du-Rhône es:Bocas del Ródano it:Bocche del Rodano (dipartimento francese) sv:Bouches-du-Rhône nl:Bouches-du-Rhône