Bond (masonry)
From Academic Kids
When laying bricks, the manner in which the bricks overlap is called the bond. A brick laid with its longest side exposed is called a stretcher, as opposed to a header, where only the end of the brick can be seen in the brickwork.
The thickness of brickwork is measured in units of brick. If you put some bricks down end-to-end with the long side facing you (stretchers) and then another row on top, the wall thickness half a brick.
There are a number of different bonds used.
Stretcher bond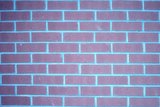 This is the most common bond in modern times, as it is easy to lay. It consists of course entirely comprised of stretchers, offset by half a brick length. As it uses no headers it is a thin wall (half a brick thickness); this enables two walls to be built close together and the gap filled as Cavity wall insulation. For this reason this bond is sometimes known as cavity wall bond.

English bond
Missing image
English_Bond.jpg
This bond is made up of alternating courses of stretchers and headers. This produces a solid wall that is a full brick in width. It is fairly easy to lay.

Flemish bond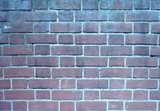 Flemish Bond is the most decorative common bond. It is created by alternately laying headers and stretchers in a single course. The next course is laid so that a header lies in the middle of the strecher in the course below. Again this bond is one brick thick.

Garden Wall bond
These bonds are variations on normal bonds which require fewer bricks and are thus less sturdy than the normal bonds. However using fewer bricks means that they are cheaper to lay. As such they are most commonly used for garden and other non-load-bearing walls.

Herringbone bond
Missing image
Herringbone_bond_pattern.jpg
When bricks are laid on alternating angles, it is called a Herringbone. This is primarily a decorative style.

Basket bond
Missing image
Basket_bond_pattern.jpg
This decorative pattern imitates the weave of a basket. It's also sometimes called a basket weave bond, and there are many variations on the weave pattern, some very elaborate.