Boca Juniors
From Academic Kids
Template:Football club infobox
Club Atlético Boca Juniors is an Argentine football (soccer) club. Its home base is the neighbourhood of La Boca, in Buenos Aires, and it hosts its home games at the Bombonera (chocolate box) stadium on 805 Brandsen street.
Boca has won 20 Argentine professional championships, five Copa Libertadores titles and three Intercontinental Cups.

Boca Juniors is a fixture in the top 30 of the Club World Ranking maintained by the International Federation of Football History & Statistics (http://www.iffhs.de/), and has reached the top position of the monthly ranking 6 times (mostly during coach Carlos Bianchi's tenure). In the annual ranking had the first position of the year 2004 (February 1, 2004 to January 31, 2005).
History
The team
On 3 April 1905, five Italian immigrants gathered in Solís park of La Boca. Esteban Baglietto, Alfredo Scarpatti, Santiago Sana, Juan and Teodoro Farenga founded Boca Juniors (the use of English language in team names was commonplace, as English railroad workers introduced football into Argentina).
The original jersey color was pink, which was quickly abandoned for thin black and white vertical stripes. The legend has it that in 1907 Boca played against a team that shared the same colors, to decide who would get to keep them. Boca lost, and decided to adopt the colors of the flag of the first boat to arrive to the La Boca port. As the boat was from Sweden, the blue-and-gold was adopted. The first version had a yellow diagonal band, which was later changed to a horizontal stripe.
Boca Juniors played in local leagues and the amateur second division until it was promoted to the top division in 1913, when it was expanded from six teams to 15. Boca was never relegated; it won six amateur championships (1919, 1920, 1923, 1924, 1926, and 1930) and, with the introduction of professionalism in Argentina, Boca won the first title in 1931.
First Match: May 6, 1905. vs. Mariano Moreno.
First international match: December 8, 1907. vs. Universal (Montevideo, Uruguay)
First professional match: May 31 1931 vs. Chacarita Juniors.
The Crest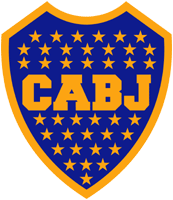 The shape of the crest has remained unchanged throughout Boca's history. In 1955, laurel leaves where added to celebrate the club's 50th anniversary, and the colors were changed in order to resemble the jersey colors.
Since 1970, a star is added for each Argentine title (top part, above the initials) and for each international title (bottom part). To the delight of fans, the crest had to be modified several times in recent years.
Boca Juniors used several fields before it settled on the current grounds on Brandsen street. Construction work on the concrete structure started in 1938; during the erection of the stands, Boca played its home matches in the Ferrocarril Oeste field in Caballito until 1940. A third tray was added in 1953, and the La Bombonera name was born. The side opposite the Casa Amarilla railway platforms remained mostly unbuilt until 1996, when it was upgraded with new balconies and VIP booths.
Dársena Sud: 1908 - 1912
Wilde: 1914 - 1915
Brins y Sengüel: 1916 - 1924
Brandsen: from 1924
The Fans
Boca Juniors is traditionally regarded as the club of Argentina's working class, in contrast with the more upscale support base of cross-town rivals River Plate.
Fans are known for valuing sacrifice, and to root for the team in good times and bad. This is also in contrast with the image of River Plate fans, who demand attractive play from their team.
Boca claims to be the club of half plus one of Argentina's population; a 2003 survey placed its following at 39%. (Centro de Estudios Nueva Mayoría) (http://nuevamayoria.com/ES/INVESTIGACIONES/sociedad/040913.html)
The Superclásico
Being the two biggest football clubs in Argentina, and due to the rivalry between them, the Boca-River Superclásico is considered one of the most thrilling derbies in the world. See: BBC news - on famous world derbies. (http://newssearch.bbc.co.uk/sportacademy/hi/sa/football/features/newsid_2297000/2297495.stm)
The derby's statistics show Boca slightly ahead with 107 victories, 52 ties, and 92 losses against River.
After Boca wins, street signs cover Buenos Aires, on fans' own expense, "ribbing" the losing side with humorous remarks. This has become part of Buenos Aires lore ever since a Boca streak in the 1990s.
Nicknames
Boca are known as los xeneizes (the Genoese) after the large number of Italian (especially Genoese) inmigrants who lived in La Boca in the early 20th century.
The name bosteros (horse-shitters) originates from the horse manure used in the brick factory that occupied the ground where the Bombonera stands. Originally used mostly by rivals, some Boca fans have taken to wear it with pride.
Boca fans also use the diminutive Boquita when referring to the club.
Following the team colors, Boca is also called la azul y oro (the blue-and-gold).
The fans call themselves la número 12 (player number 12) because of the influence they have on rival teams - especially in home games, where their cheering is loudly heard on the pitch.
International
Peñas (fan clubs) exist in many Argentine cities, and abroad, in countries such as Spain, Israel and Japan.
Boca has fans throughout Latin America, especially in Colombia and Peru, which are the home country of many top players. All over the world, fans were drawn to Boca by its international titles, and by the successes of Boca players who went on to play in European football such as Maradona, Batistuta, and Riquelme.
Institutional
Executive Board 2004-2007
President: Mauricio Macri
1st Vice-president: Pedro Pompilio
2st Vice-president: Gregorio Diego Zidar
3st Vice-president: José Anunciado Cirillo
Secretary: Luis Bartolomé Buzio
Other Sports
The Boca Juniors basketball team has won the Argentine title twice (1996~97, 2003~04), the Argentine Cup (2004), the Argentine Top 4 (2004), and the South American Club championship (2004). It also reached the 2005 finals (losing to Ben Hur).
Boca Juniors had a very competitive volleyball team during the mid 1990s, winning a championship in 1996. Later on mismanagment and problems led to that team being dismantled and now Boca's team competes in the lower leagues. Rebuild by Boca's former player Marcelo Gigante in 2003, Boca's team got back to first division in 2005.
Starting 2005, the Argentine Turismo Carretera stock-car competition league spun off the Top Race V6 category, in which teams are sponsored by football teams. Veteran race pilots Ortelli and Bessone and former Boca player Vicente Pernía drive for the Boca team, which took both first and second place in the maiden race.
Women Football Titles 8: 1992, 1998, 1999, 2000 (unbeaten), 2001 Apertura, 2002 Clausura, 2003 Apertura, and 2004 Apertura.
In Futsal, Boca has won 4 Championships: 1991, 1992, Clausura 1997, and Apertura 1998.
Boca representatives also compete in other disciplines such as judo, karate, taekwondo, and weight lifting.
Boca TV
Boca Juniors was the fifth football club in the world to have its own TV signal. Boca TV broadcasts 24 hours a day, featuring sports programs and talk shows.
Football Titles
Amateur
1919, 1920, 1923, 1924, Copa de Honor 1925, 1926, 1930
Professional
First Division: 21
1931, 1934, 1935, 1940, 1943, 1944, 1954, 1962, 1964, 1965, Copa Argentina and Nacional 1969, Nacional 1970, Metropolitano and Nacional 1976, Metropolitano 1981, Apertura 1992, Apertura 1998, Clausura 1999, Apertura 2000, Apertura 2003
1977, 1978(Unbeated), 2000, 2001, 2003
1977, 2000, 2003
Other International Cups: 5
Supercopa 1989, Recopa 1990, Copa Masters 1992, Copa de Oro 1993, Copa Sudamericana 2004
Records
40 matches unbeaten. (Argentine record) From 5/5/98 to 2/6/99, with 29 victories and 11 ties.
Famous Players
Legend:
Before 1970
1970s and 1980s
1990s
2000s
Current Stars
Coaches
Bocas's two most successful coaches were Juan Carlos Lorenzo (1976~79, 1987), and Carlos Bianchi (1998-2001, 2003~04). Toto Lorenzo won five titles with the team, including the Libertadores Cup in 1977 and 1978, the Intercontinental Cup in 1977, and the Metropolitano and Nacional in 1976. Bianchi won eight, including Aperturas in 1998 and 2000, the 1999 Clausura, the Libertadores Cup in 2000, 2001, and 2003, and the Intercontinental Cup in 2000 and 2003.
External Links

Template:Primera División de Argentinabs:Boca Juniors ca:Boca Juniors de:Boca Juniors es:Club Atlético Boca Juniors fr:Boca Juniors hr:Boca Juniors it:Boca Juniors ja:ボカ・ジュニアーズ nl:Boca Juniors pl:Boca Juniors pt:Boca Juniors sl:Boca Juniors sv:CA Boca Juniors