Bishop's Stortford
From Academic Kids
Template:GBdot Bishop's Stortford is a town in Hertfordshire, England. It is situated just west of junction 8 of the M11, is the closest town to London Stansted Airport, and is at the heart of East Anglia's commuter belt.
It has a population of about 35,000 and is administered by the East Hertfordshire district council.
History of the Town
Bishop's Stortford started off as a small Roman settlement on the Roman road between London and Colchester, after the Roman empire broke down, the small town was abandoned.
A new Saxon development grew up. At the time of the Domesday book the town had a population of around 120. The Normans built a wooden castle in the town, but by the Tudor period it was in ruins. Development of the town increased with the presence of a river and the roads. A weekly market was set up for farmers to sell their goods.
Despite outbreaks of the plague in the 16th and 17th centuries the town continued to grow with an approximate population of 1,200 by this point.
After 1769 the River Stort was made navigable, further transport links improved the town when the town was made a stagecoach stop on the road between Cambridge and London.
By 1801 Bishop's Stortford became a market town, a corn exchange was established, whilst the main industry was malting. In 1842 the railway came to Bishop's Stortford; another Victorian era introduction was the opening of a hospital in 1895.
At the beginning of the 20th century, in 1901, the population was over 7,000. By 1951, Bishop's Stortford had expanded further to 13,000. The second half of the 20th century saw Bishop's Stortford's grow even more as the town became a commuter town, the M11 motorway, nearby Stansted Airport, and the train links to London have contributed to the town now having a population of around 35,000.
Famous Inhabitants
Bishop's Stortford is the birthplace of Cecil Rhodes, born in 1853 and the effective founder of the state of Rhodesia, De Beers diamond company and the Rhodes Scholarship.
It is also the birthplace of Frederick Scott Archer who invented the collodion process, the first photographic emulsion used to create glass negatives.
External links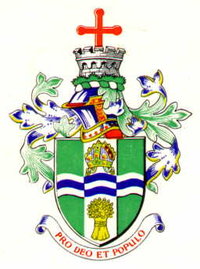 de:Bishop's Stortford