From Academic Kids
Bichon Frisé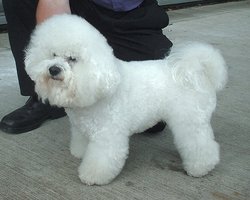 Alternative names
Bichon Ó poil fries
Tenerife Dog
Country of origin
Belgium / France / Mediterranean region
Classification
| | |
| --- | --- |
| FCI: | Group 9 Section 1 |
| AKC: | Non-sporting |
| ANKC: | Group 1 (Toys) |
| CKC: | Group 6 - Non-Sporting Dogs |
| KC(UK): | Toy |
| NZKC: | Toy |
| UKC: | Companion Breeds |
Breed standards (external links)
FCI (http://www.google.com/search?q=cache:0Y4gY86C9VQJ:www.fci.be/uploaded_files/215gb98_en.doc+site:www.fci.be+%22215+/+11.+05.+1998+%22&hl=en&ie=UTF-8), AKC (http://www.akc.org/breeds/bichon_frise/index.cfm), ANKC (http://www.ankc.aust.com/bichon.html), CKC (http://canbichon.tripod.com/standard.htm)
KC(UK) (http://www.the-kennel-club.org.uk/discoverdogs/toy/y904.htm), NZKC (http://www.nzkc.org.nz/br106.html), UKC (http://www.ukcdogs.com/breeds/companions/bichonfrise.std.shtml)
A Bichon Frisé (French, literally Curly lap dog; often spelled Bichon Frise in English) is a small dog that is the size of a large cat. They are popular pets, similar to poodles.
Appearance
Missing image
DSCN0533.jpg
Bichons weigh between 7 and 18 lb (3 to 8 kg) and stand 9 to 12 inches (23 to 30 cm) at the withers. They have curly white fur that must be groomed regularly and carefully. Their tails are usually carried curled over their backs.
Temperament
They have a lot of energy and enjoy going for long walks, climbing on furniture, and chewing on things. They can be also be territorial and definitely have a mind of their own.
Health
Although many all-white breeds suffer from a variety of ailments including ear infections and skin problems, Bichons have, for the most part, escaped these problems. Bichons live an average of 12 to 14 years. Care must be taken to keep the face of a Bichon Frisé clean and trimmed, as eye discharge and mucus tend to accumulate in the fur that grows in front of their eyes.
History
The breed has existed since the Middle Ages. Its exact origins are uncertain, although it is fairly clear that they originated in the Mediterranean region. Sailors had transported it to the island of Tenerife by the 14th century. They were further bred as lap dogs for the French royalty and were a court favorite by the 15th century. The dogs ended up on the streets during the French Revolution, where they were caught and trained to be circus dogs.
They are a versatile, intelligent, and hardy dog despite popular use as a companion animal and lap dog; farmers in Norway have recently used the Bichon for rounding up sheep, which is not a commonly mentioned breed use.de:Bichon FrisÚ pl:Bichon Frise