Bernard Law Montgomery, 1st Viscount Montgomery of Alamein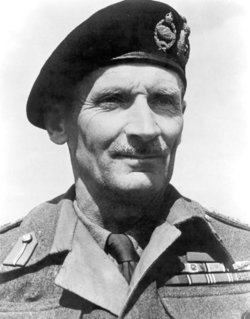 Field Marshal Sir Bernard Law Montgomery, 1st Viscount Montgomery of Alamein (November 17, 1887 - March 24, 1976) was a British Army officer, most noted for his involvement in World War II and often referred to as "Monty."
Pre-World War II
He was born in London in 1887.
After graduating from St Paul's School and the Royal Military College at Sandhurst, he joined the 1st Battalion, The Royal Warwickshire Regiment in 1908, first seeing service in India. The First World War began in August 1914 and he moved to France with his regiment that month. He saw service during the retreat from Mons and was severely wounded during the First Battle of Ypres on 13 October 1914 while taking part in an attack against the German-held village of Meteren. He was awarded the Distinguished Service Order (DSO) for his actions. After recovering in early 1915, he was promoted to Brigade Major and returned to the Western Front in early 1916, taking part in, among others, the Battle of the Somme. He participated in a number of other engagements throughout the war, eventually finishing the war, after a number of other appointments, as General Staff Officer 1, ranked as a colonel, in the 47th (2nd London) Division.
During the Irish War of Independence (1919-1921) Montgomery was the Commanding Officer of the County of Cork, Ireland's largest county and the most bitterly contested region in the conflict, and British forces there were noted for their lack of discipline (see Essex Regiment).
After the First World War ended, many promising young officers who had gained higher brevet rank during the war were reduced to their substantive ranks, and Montgomery returned to the 1st Royal Warwickshires in 1925 as a company commander, or captain. Montgomery now had to rise up the ranks once more. He married Elizabeth Carver in 1927 and eventually became Lieutenant-Colonel of the 1st Royal Warwickshires battalion in 1931, seeing service in Palestine, Egypt, and India. He was promoted to Colonel and became an instructor at the Indian Army Staff College in Quetta, India. Montgomery did, as was usual, maintain links with the Royal Warwickshires, taking up the honorary position of Colonel-of-the-Regiment in 1947. He became commanding officer of the 9th Brigade in 1937. The year also saw tragedy for him when his wife, Elizabeth Carver, died after contracting an illness. He was promoted to Major-General the following year, taking command of the 8th Division in Palestine.
World War II
Britain declared war on Germany on 3 September 1939, two days after Hitler had invaded Poland. At the time, Montgomery had only just recently taken command of the 3rd Division and he and his division deployed to Belgium as part of the British Expeditionary Force. The Germans began their invasion of the Low Countries on 8 May 1940 and the BEF eventually withdrew to Dunkirk where Operation Dynamo -- the evacuation of the BEF and French forces to Britain -- began on 26 May. Montgomery was placed in command of II Corps during the evacuation and he was part of over 330,000 British and French troops that were successfully evacuated from Dunkirk by the time the operation ended on 4 June.
He was promoted Lieutenant-General shortly after his return to Britain, and after a number of appointments, Prime Minister Winston Churchill appointed Montgomery commander of the British Eighth Army in the North African campaign in August 1942. He successfully pushed back Erwin Rommel, forcing him to retreat from Egypt after the Second Battle of El Alamein.
Montgomery successfully led the Allied invasion of Sicily in 1943 under the command of Eisenhower. A feature of the Sicily campaign was Montgomery's clash of personality with the American officer leading Seventh Army, General George Patton. Both had enormous egos and desired to be the centre of attention when it came to coverage of the campaign.
Montgomery continued to command Eighth Army during the landings on the mainland of Italy itself. Shortly thereafter he was recalled to the UK to take part in planning Operation Overlord, the invasion of Normandy. Montgomery assumed command of 21st Army Group before the Normandy invasion and commanded that formation for the rest of the war in Europe.
During the D-Day invasion, and for several months afterwards, Montgomery commanded all allied ground forces: British, Canadian and American. British troops became bogged down in the northern sector of his command outside the French town of Caen. Montgomery's original plan had him taking Caen within days of the invasion, but it actually took him many weeks to capture this crucial town. This provoked criticism from some Americans but Montgomery had deliberately placed his experienced British and Canadian troops up against the bulk of the armor, including most of the Waffen SS Panzer divisions that were present on the Western Front. Many of the US troops, in contrast, were straight off the boat from training in America, having just completed an Atlantic crossing to be then landed on the Omaha and Utah beaches. Montgomery's persistence, intentionally or not, did manage to pin down the bulk of the German armour around Caen, allowing General Patton's 3rd American Army to sweep West then North, capturing many retreating German troops at the 'Falaise Gap'.
Montgomery's performance during the Normandy landings was criticised by many who considered his plans unimaginative and too rigid (which is strange considering the D-Day ground invasion plan was largely of his devising); he was, however, among the few Allied officers aware of Ultra throughout World War II (The British did not give Americans the decoding secrets until 1943) and would have been in possesion of high-level intelligence not known to his critics. Often he would receive decoded German signals before the intended recipent did. The German Wehrmacht high command viewed him as a less dangerous threat as a commander than Patton, considering him habit-ridden and overly cautious. He was most successful with well planned attacks with overwhelming forces, such as at El Alamein. Montgomery's defenders put his caution down that fact that he commanded, for the most part, British and Canadian forces. He was acutely aware that these forces were limited in number and not easily replaced. He could not afford to sacrifice them needlessly. His American counterparts, Bradley and Patton, in contrast, could call upon almost inexhaustible supplies of manpower from the States.
Eventually the preponderance of American troops in the European theatre made a British Ground Forces Commander a political impossibility. Eisenhower himself took over Ground Forces Command while continuing as Supreme Commander. Montgomery bitterly resented this change, even though it had been agreed before the D-Day invasion. Winston Churchill had Montgomery promoted to Field Marshal by way of compensation.
Montgomery's tempestuous personality and tactlessness throughout the war nearly led to fissures in the Allied high command. The most notable of these led to adoption by Eisenhower of his strategy of a single thrust to the Ruhr, which manifested itself in Operation Market Garden. Operation Market Garden led to the defeat of the 1st Airborne Division outside Arnhem. When first shown the plans the British Lieutenant General Frederick Browning said, "I think we might be going a bridge too far."
Montgomery was capable of inspiring great loyalty among his staff. These men defended him with great passion even after the war, as the British historian Richard Holmes discovered when he was critical of Montgomery.
On January 7, 1945 Montgomery held a press conference in which he downplayed the role of the American generals in the Allied victory at the Battle of the Bulge. This caused some degree of controversy, and resentment from Americans who felt that Montgomery held back his forces too long.
He was created 1st Viscount Montgomery of Alamein in 1946.
His reputation was tarnished by evidence of racism with the 1999 revelation of previously secret papers from 1947-1948 when he held the position of Chief of the Imperial General Staff. During that period he was strictly enjoined to silence about his views, which were contrary to British policy, and agents were assigned to vet his public appearances for compliance.
He died in 1976 and was interred in the Holy Cross Churchyard, Binstead, Hampshire.
See Also: Famous military commanders
Quotations
"The U.S. has broken the second rule of war. That is, don't go fighting with your land army on the mainland of Asia. Rule One is don't march on Moscow. I developed these two rules myself."