Benjamin Thompson
From Academic Kids
See Benjamin C. Thompson for the American architect.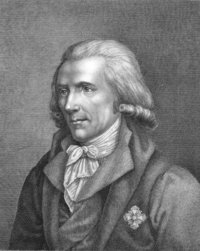 Sir Benjamin Thompson, Count Rumford (in German: Graf Rumford), (26 March 1753 - 21 August 1814), was an Anglo-American physicist.
Born in Woburn, Massachusetts, in America, Thompson was educated mainly at the village school, and, at the age of 13 was apprenticed to John Appleton, a merchant of nearby Salem. Thompson excelled at his trade and, coming in contact with refined and well educated people for the first time, adopted many of their characteristics, including an interest in science. While recuperating in Woburn in 1769 from an injury, Thompson conducted experiments concerning the nature of heat and began to correspond about them with Loammi Baldwin and others. Later that year, he worked for a few months for a Boston shopkeeper and then apprenticed himself briefly and unsuccessfully to a doctor in Woburn.
Thompson's prospects were dim in 1772, but in that year they changed abruptly. He met, charmed and married a rich and well-connected heiress named Sarah Rolfe, moved to Portsmouth, New Hampshire, and through his wife's influence with the governor, was appointed a major in a New Hampshire militia.
When the American Revolution began, Thompson was a man of property and standing in New England, who had important connections to the royal government. He threw in his lot with the British, and was active in recruiting loyalists to fight the rebels. This of course earned him the enmity of the popular party, and a mob attacked Thompson's house. He fled to the British lines, abandoning his wife, as it turned out, forever. Thompson was welcomed by the British, to whom he gave valuable information about the American forces, and became an advisor to both General Gage and Lord Germain.
While working with the British armies in America, he conducted experiments concerning the force of gunpowder, the results of which were widely acclaimed when eventually published, in 1781, in the Philosophical Transactions of the Royal Society. Thus, when he moved to London at the conclusion of the war, he already had a reputation as a scientist. Thompson was knighted in 1784.
In 1785, he moved to Bavaria where he became an aide-de-camp to the Elector Karl Theodor. He spent eleven years in Bavaria, reorganizing the army and establishing workhouses for the poor. During his work he also invented the Rumford Soup, a nutritious soup for the poor, and established the cultivation of the potato in Bavaria. In 1791 he was named a count of the Holy Roman Empire.
His most important scientific work took place in Munich, and centered on the nature of heat, which he demonstrated in An Experimental Enquiry Concerning the Source of the Heat which is Excited by Friction (1798) to be not a liquid form of matter but a form of mechanical energy. Based on his work on heat he created the Baked Alaska in 1804.
Thompson was an active inventor, developing improvements for chimneys and fireplaces and inventing the double boiler, a kitchen range, and a drip coffeepot. The Rumford fireplace is considered to be a very thermally efficient way to heat a room. Furthermore he was socially active as founder of Munich's English Garden (German Englischer Garten) in 1789.
With Sir Joseph Banks, he established the Royal Institution of Great Britain in 1799; the two chose Sir Humphry Davy as the first lecturer. He endowed the Rumford medals of the Royal Society and the American Academy of Arts and Sciences, and endowed a professorship at Harvard University.
In 1804, he married Marie-Anne Lavoisier, the widow of the great French chemist Antoine Lavoisier (his American wife having died in the meantime). They soon separated, but Thompson settled in Paris, and continued his scientific work until his death.
The Rumford crater on the Moon has been named for him.
See also
External links