Bautzen
From Academic Kids
Bautzen (pronounced , Missing image
Ltspkr.png
Image:Ltspkr.png

listen, until 1868: Budissin; Upper Sorbian Budyšin; Lower Sorbian: Budyšyn ;Polish: Budziszyn , Missing image
Ltspkr.png
Image:Ltspkr.png

listen; Czech Budyšín) is a city in the east of Saxony, Germany, and capital of the eponymous district. It is located on the Spree River. As of 2003, its population is 42,391.
Bautzen may be regarded as the unofficial capital of Upper Lusatia, and it is a cultural center of the Sorbs, a Slavic minority.
The first written proof of the city was in 1002. In 1018 the Peace of Bautzen was signed between the German king Henry II and the Polish prince Boleslaus I. The Treaty left Bautzen under the Polish rule. In 1033 the city passed to the Holy Roman Empire, in 1319 to Bohemia and in 1635 to Saxony. During the Middle Ages it was a member of the Six Cities' Alliance of the Upper Lusatian cities of Görlitz, Zittau, Löbau, Kamenz, Lauban and Bautzen.
During the Nazi era there was a subcamp of the Groß-Rosen concentration camp in Bautzen. Ernst Thälmann was imprisoned there before being deported to Buchenwald.
The East German regime kept a prison for opposition members in Bautzen. The prison was called Gelbes Elend ("Yellow Misery") by the people.
In 2002 the city commemorated its thousandth birthday.
Asteroid (11580) Bautzen is named in honor of the city.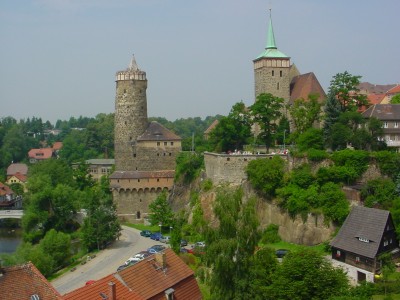 Subdivisions:
Here are the subdivisions of Bautzen:
In the east:
In the south:
In the west:
In the southwest:
Twin Cities
Missing image
Bautzen_Reichenturm_2003.jpg
Sites of Interest:
There are four museums including the Stadtmuseum Bautzen (lit. the Bautzen city Museum) and the Sorbisches Museum, lit. the Sorbian Museum (Sorbian-Lusatian: Serbski muzej).
External link
de:Bautzen eo:Bautzen hu:Bautzen nl:Bautzen (stad) pl:Budziszyn sl:Budyšin sv:Bautzen