Bamburgh Castle
From Academic Kids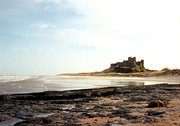 Bamburgh Castle is an imposing castle located on the coast at Bamburgh in Northumberland, England.
Built on a basalt outcrop, the first written reference to it is in 547 as the seat of an Anglo-Saxon ruler called Ida. His grandson Ethelfrith passed it on to his wife Bebba, from which the early name Bebbanburgh was derived. The Vikings destroyed the original fortification in 993.
The Normans built a new castle on the site, forming the core of the present castle. Henry II probably built the keep, and William II unsuccessfully besieged it in 1095 during a revolt supported by its owner, Robert de Mowbray, Earl of Northumberland. After he had been captured, his wife continued the defence until coerced to surrender by the king's threat to blind her husband.
It became the property of the reigning monarch and an important English outpost—and the target of occasional raids from Scotland. In 1464 during the Wars of the Roses, it became the first castle in England to be defeated by artillery, at the end of a nine-month long siege by Richard Neville, 16th Earl of Warwick. The castle lay in ruins until it was restored by various owners during the 17th and 18th centuries. It was finally bought by the Victorian industrialist William Armstrong, who completed the restoration.
During the Second World War, the Royal Navy corvette HMS Bamborough Castle was named after it.