Ballpoint pen
From Academic Kids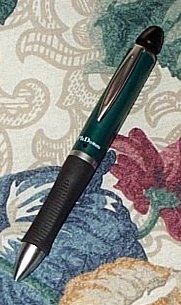 A ballpoint pen, in many countries also eponymously called a biro, is a writing instrument, more specifically a pen, similar to a pencil in size and shape. The pens have an internal chamber filled with a viscous ink that is dispensed at the tip during use by the rolling action of a small metal sphere (0.7 mm to 1 mm in diameter); the ink dries almost immediately after contact with paper. Inexpensive, reliable and maintenance-free, they have almost completely replaced the fountain pen.
History
The ball point pen was invented in 1938 by the Hungarian journalist Laszlo Biro (known in Argentina as Lisandro José Biro), who noticed that the ink used in newspaper printing dried quickly, leaving the paper dry and smudge-free. He tried using the same ink in a fountain pen but found that it would not flow into the nib, as it was too viscous. Working with his brother Georg, a chemist, he developed a new tip consisting of a ball that was free to turn in a socket, and as it turned it would pick up ink from a cartridge and then roll to deposit it on the paper. An earlier patent on the same basic idea, dated 1888, was unused and expired. Slavoljub Penkala had invented a solid-ink fountain pen in 1907. In addition, it has been argued that a design by Galileo (during the 17th century), was that of a ballpoint pen.
In 1943 the brothers moved to Argentina and on June 10 filed another patent, and formed Biro Pens of Argentina. The pen was sold in Argentina under the Birome brand, which is the way ballpoint pens are still called in Argentina. This new design was licensed by the British, who produced ball point pens for RAF aircrew, who found they worked much better than fountain pens at high altitude.
Eversharp, a maker of mechanical pencils teamed up with Eberhard-Faber in May 1945 to license the design for sales in the United States. At about the same time a US businessman saw a Biro pen in a store in Buenos Aires. He purchased several samples and returned to the U.S. to found the Reynolds International Pen Company, producing the Biro design without license as the Reynolds Rocket. He managed to beat Eversharp to market in late 1945; the first ballpoint pens went on sale at Gimbel's Department Store in New York City on October 29, 1945 for US$12.50 each. This pen was widely known as the rocket in the U.S. into the late 1950s.
Similar pens went on sale before the end of the year in England, and by the next year in most of Europe. Cheap disposable instruments were produced by the BIC Corporation with "Bic" as the tradename; as with 'Hoover' and 'Xerox', the tradename has subsequently passed into general use.
Description
Missing image
Ballpoint_of_common_ballpoint_pen.jpg
There are two basic types of ball point pen: disposable and refillable.
Disposable pens are chiefly made of plastic throughout and discarded when the ink is consumed; refillable pens are metal or plastic and tend to be higher in quality and price. The refill tends to replace the entire internal ink reservoir and ball point unit rather than actually refilling it with ink.
The simplest types of ball point pens have a cap to cover the tip when the pen is not in use, while others have a mechanism for retracting the tip. This is usually controlled by a button at the top and powered by a spring within the pen apparatus, but other possibilities include a pair of buttons, a screw, or a slide.
Early pens were notorious for leaking, giving rise to the 'pocket protector', but changes to the composition of the ink have largely made this a thing of the past. Modern ink is generally more viscous, but contains additives which cause it to thin out under pressure. As the pen is pushed against the paper, the ball causes the ink pressure to rise slightly, and thus thin out; as the pen is lifted, the pressure drops, and the ink thickens again.
The most recent developments in the technology include:
Multi-color pens, with multiple ink refills and ballpoints which are switchable at will. One of the most common types is a four-color pen with the colors black, red, blue, and green. This type of pen was first introduced by Bic in the 1970s;
Rollerball pens, which combine the ballpoint design with the use of liquid ink and flow systems from fountain pens;
"Space Pens", developed by Fisher in the United States, which combine a more viscous than normal ballpoint pen ink with a gas pressurized piston which forces the ink toward the point. This design allows the pen to write even upside down or in zero gravity environments. It was designed for the use of NASA, and has since been used in both American and Russian spaceflight. Fisher has capitalized on the design, developing a line of "Space Pens" for consumer use.
Ballpoint pens in everyday life
Missing image
Ballpoint_pen_marks_closeup.jpg
Ballpoint pens are ubiquitous in modern culture. Almost every household is likely to have several dozen ballpoint pens. The fact that they are so cheaply available (costing from just a few cents/pence to produce) and so convenient to use means they are often to be found on desks and also in pockets, handbags, purses, bags and in cars—almost anywhere where one could conceivably need to use a pen. Ballpoint pens are often provided free by businesses as a form of advertising—printed with a company's name, a ballpoint pen is a low cost advertisement that is highly effective (customers will use, and therefore see, a pen on a daily basis). Businesses have been known to include ballpoint pens in direct mail mailings in order to increase a customer's interest in the mailing. Whilst other forms of pen are available, ballpoint pens are certainly the most common.
Trivia
The Al Faisalia skyscraper in Riyadh, Saudi Arabia, takes the shape of a ballpoint pen.da:Kuglepen de:Kugelschreiber et:Pastapliiats fr:Stylo-bille it:Penna a sfera ja:ボールペンnl:balpen pl:Długopis sv:Kulspetspenna