Balarama
From Academic Kids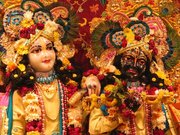 In Hindu Vaishnavism, Balarama (phonetically Balarāma ) is considered to be the ninth avatar of Vishnu. Balarama is a manifestation of Adishesha, the giant serpent on whom Vishnu rests. The sacred Hindu scripture Bhagavata Purana explains how Krishna is the supreme personality of Godhead and from whom everything emanates. In doing so, his first expansion is Balarama. From Balarama all other incarnations of God appear. Of the three transcendental elements (sat, cit and ananda), Balarama is in charge of sat(Sanskrit: eternity) and cit(Sanskrit: knowledge). Hence he worshiped as the supreme teacher or adiguru.
Appearance
Balarama appeared as a son of Vasudeva and Devaki. He and Krishna, brothers, were moved from the womb of their mother to that of Rohini because their uncle Kamsa, an evil king, was attempting to kill them. He spent his childhood as a cowherd boy with his brother Krshna and friends. He married Revati, the daughter of King Raivata, ruler of the Anarta province.
Pastimes
Missing image
AgathoclesSquareCoin.jpg
Balarama is fair complexioned (while his brother, Krishna, is dark-skinned). His weapons are the plow and the mace. Balarama famously taught both Duryodhana of the Kauravas and Bhima of the Pandavas the art of fighting with a mace. When war broke between the Kauravas and the Pandavas, Balarama was equally affectionate to both parties and so decided to be neutral. Eventually when Bhima (of greater strength) defeated Duryodhana (of greater skill) by dealing a blow below the navel with his mace, Balarama threatened to kill Bhima. This was only prevented when Krishna reminded Balarama of Bhima's vow to kill Duryodhana by crushing the very thigh he exposed to his wife Draupadi.
Disappearance
The Bhagavata Purana describes that Sesha emerged from his mouth just as Balarama was dying.