Avianca
From Academic Kids
Avianca is an airline based in Bogotá, Colombia. It is Colombia's national airline operating international scheduled services to Europe, USA, Caribbean and Latin America, as well as domestic and charter flights. Its main base is El Dorado International Airport (BOG), Bogotá.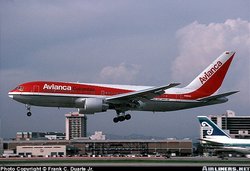 Code Data
History
Avianca was only the third airline ever to operate in the history of aviation, after KLM of the Netherlands, and the second one to fly in the Americas after Chalk's Ocean Airways. Currently, Avianca holds the title as second oldest airline in the world still operating under its original name, second to KLM.
The airline was established in June 1940 by the merger of SCADTA and Servicio Aéreo Colombiano. Over the decades Avianca expanded their routes to include all of South America, as well as Central America, the United States and the U.S. territory of Puerto Rico, Mexico, and parts of Europe. Avianca's fleet has included such types as the Boeing 727, Boeing 707, Boeing 747, Boeing 757, and Boeing 767. Nowadays, they have retired the 707s, 727's and 747's but have added the Fokker 50 and MD-83's to their fleet.
In March 2002 Avianca combined with its domestic subsidiary SAM Colombia and merged with ACES Colombia to form the Summa alliance and all operations began on 20 May 2002. On 21 March 2003 Avianca filed for Chapter 11 bankruptcy protection with debts of $446 million and, following the grounding of ACES Colombia in August 2003, Summa was officially dismantled the following November.
Continental Airlines placed a bid to acquire Avianca and combine it with its Panamanian unit, Copa Airlines. On November 17, 2004 the newspaper El Tiempo reported that this bid was superseded by a proposal by the Group OceanAir/Grupo Synergy, owned by the Brazilian entrepreneur Germán Efromovich, to invest $63 million. The creditors backed this plan with more than 99% of the vote, and the Bankruptcy Court of the Southern District of New York has approved it. OceanAir would take 75% of the company, and the Federación Nacional de Cafeteros (National Federation of Coffee Growers of Colombia) would retain 25% ownership, down from the current 50% it holds, with an option to sell out completely after 3 years have passed since emerging from bankruptcy. Valores Bavaria, the owner of the Colombian brewery Bavaria, would sell its current 50% holding. The pilots, who presented their own letter of intent to the court on November 16, objected to the OceanAir plan.
After several discussions with the pilots, a degree of understanding was reached between the investors and interested parties. The OceanAir plan was eventually approved by debt holders and confirmed by judge Allan Gropper of the US District Court for the Southern District of New York, thus the airline was able to emerge from Chapter 11 protection in December 2004, under Efromovich as its newest owner.
In March 2005, Avianca reported that it had achieved significant net profits at the end of 2004 (about $132 million ), contrasting with heavy 2003 losses (about $135 million). The new restructuring process, together with cost cutting measures (saving $70 million), Efromovich's investment (of which some $17.8 million had been delivered by March 2005), debt restructing and partial debt payments ($106 million), had placed the company in a positive economic position as 2005 began.
Avianca is owned by Federacion Nacional de Cafeteros (50%), Grupo Valores Bavaria (43.73%) and other shareholders (6.27%). The airline also owns 94% of SAM Colombia, is a member of the LatinPass frequent flyer programme and employs 4,624 staff.
Incidents and Accidents
As Colombia struggled to fight drug trafficking in the 1980s, Avianca also had trying times. The airline suffered a few accidents which were arranged by rival gangs whenever they knew that someone they wanted killed was on board an Avianca flight (See: Avianca Flight 203 in 1989). It should be noted, however, that in the great majority of these accidents, Avianca was not to blame, as investigations almost always pointed to other causes and not the Avianca planes themselves. Avianca Flight 011, a Boeing 747, crashed shortly before landing at Barajas International Airport in Madrid, Spain on September of 1983.
On January 25, 1990, Avianca Flight 52, a Boeing 707-321 jet (built in 1965) en route from Bogotá to New York City via Medellín, crashed into Long Island after running out of fuel in a series of hold-up patterns, killing 73 of the 158 people on board.
After the death or arrest of various traffickers at the hands of Colombian police, Avianca has regained its status as one of the safest airlines in the world.
Services
Avianca operates the following services (at January 2005):
Domestic scheduled destinations: Armenia, Barranquilla, Bogotá, Bucaramanga, Cali, Cartagena, Manizales, Medellín, Pereira, San Andres Island, Santa Marta and Valledupar.
International scheduled destinations: Aruba, Buenos Aires, Caracas, Curacao, Fort Lauderdale, Guayaquil, Lima, Madrid, Mexico City, Miami, New York, Panama City, Quito, Rio de Janeiro, Santiago and Sao Paulo.
Fleet
The Avianca fleet consists of the following aircraft (at June 2005):
External links
de:Avianca