Armored car
From Academic Kids
Military armored cars
Missing image
French_VBL_DSC00823.jpg
Military armored cars are a type of armoured fighting vehicles and have wheels (usually 6 or 8 large off-road wheels) instead of tracks, and light armor. They may have a machine gun, an autocannon, or a small gun, or may even be unarmed. Their primary purposes are reconnaissance, command/control, and communications.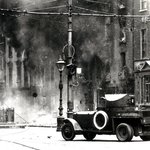 At the beginning of the 20th century a number of military armoured vehicles were manufactured by adding armour and weapons to existing vehicles: armoured tractors, armoured cars, and armoured trains are known. A prototype vehicle fully designed for a military purpose was Tsar Tank, tested in Russia in August, 1915, however the design proved to be a fiasco. Subsequent armoured cars were less ambitious.
Missing image
Armoured_Car_Korfanty_1920.jpg
Examples of Military Armored Cars
Civilian armored cars
Civilian armored cars can be divided into two types:
1. cars or trucks used in transporting valuables, such as large quantities of money which are armored and equipped to resist attempts at highway robbery or the hijacking of the cargo. They may be manned with armed guards but do not mount weapons. Armored cars are usually operated by security firms, which provide secure transport for clients' property.
2. Armored versions of cars or SUVs used as protection from crime or violence either by individuals who fear they may become victims, or in high risk environments. Diplomatic missions typically use armored cars as standard vehicles, and many manufacturers or after market firms offer armored versions of their vehicles. They are typically indistinguishable from the regular version on casual inspection from a distance.
See also
Template:Mil-stubja:装甲車 pl:Samochód pancerny zh-cn:装甲车 nl:pantserwagen