Appalachian dulcimer
From Academic Kids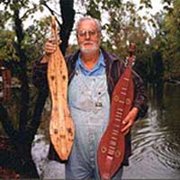 The Appalachian dulcimer, is a fretted string instrument with three or four strings, although contemporary versions of the instrument can have as many as twelve strings and six courses. The body extends the length of the fingerboard and traditionally has an hourglass, teardrop, or elliptical shape. A courting dulcimer has two fretboards allowing two players to closely sit across from each other to perform duets, hence the name.
A traditional way to play the instrument is to lay it flat on the lap and pluck or strum the strings with one hand, while fretting with the other. In practice, a wide variety of playing styles are used.
When four strings are used, the first two strings are placed close together and tuned the same. This can be used to emphasize the melody, while the other two strings are used as drone strings. Some dulcimers are constructed to allow the strings to be arranged with either a "double melody string" (as described above) or with the option of four equidistant strings. The traditional way to play the dulcimer is to utilize the "one melody string and two drone strings" approach. Players who employ this method are known as "noters". More contemporary play has borrowed from chord theory and guitar analogues to create a variety of more complex ways to play the dulcimer. The Appalachian dulcimer is both easy to learn to play and yet capable of complexity, providing scope for a wide range of professionals and hobbyists.
The frets of the Appalachian dulcimer are arranged in a diatonic scale. So-called "chromatic dulcimers" are sometimes made, to permit play in minor keys, but some consider that, properly speaking, the resulting zither is not a dulcimer.
The Appalachian dulcimer is widely used in the American Old-time music tradition. This instrument first appeared in the early 1800s in the southern Appalachian Mountains, and is thus also called a mountain dulcimer. The instrument was based on pre-existing similar European instruments, but acquired a distinctive American flavor. The instrument became used as a parlor instrument, as its sound volume is well-suited to small home gatherings.
The Appalachian dulcimer achieved a renaissance in the 1950s urban folk music revival in the United States of America through the work of Jean Ritchie, a Kentucky woman who performed Appalachian dulcimer works in New York City. The American folk musician Richard Farina utilized an Applachian dulcimer in a less traditional way, pointing out its similarity in tone to some Asian instruments. Modern dulcimer enthusiasts run the gamut from traditional folk music through experimental forms, although traditional music perhaps predominates. Dulcimer festivals take place regularly in the United States, Canada, the United Kingdom and Ireland, as the Appalachian dulcimer has achieved a following in a number of countries. Virtually every culture has an instrument based on the working idea of the Appalachian dulcimer.
Appalachian dulcimer manufacture is often conducted by small, family-run businesses located in the American south and particularly in Appalachia.