Alexander Berkman
From Academic Kids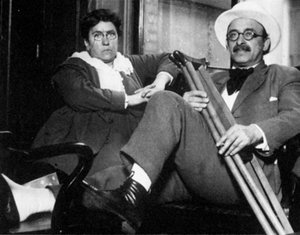 Alexander Berkman (21 November 1870 - 28 June 1936) was a Russian writer and activist who lived and worked for many years in the United States, where he was a leading member of the anarchist movement. He was closely associated with Emma Goldman, another Russian anarchist with whom he collaborated frequently and organized civil rights and anti-war campaigns.
Early years
Berkman was born Ovsei Osipovich Berkkan in Vilna, Lithuania, the son of a wealthy Jewish businessman. He grew up in St Petersburg, Russia where he became known by Alexander, a name more common that country; later he was generally known among his friends as Sasha. Both his parents died when he was young, and at the age of seventeen he emigrated to the United States.
Soon after arriving in the US, Berkman became involved with political activism and became interested in anarchism through his involvement in the campaign to free the men convicted in the 1886 Haymarket bombing. In New York City, Berkman met and had a brief romance with Emma Goldman, another Russian immigrant who was working in a clothing factory and who later became an anarchist leader. Berkman and Goldman remained close friends and colleagues for the rest of their lives.
One of the early influences on both Berkman and Goldman was the German anarchist Johann Most. In 1892, at age 22, Berkman — under the influence of Most's endorsement of propaganda of the deed — attempted to assassinate Henry Clay Frick, a wealthy industrialist involved in a bitter dispute with steelworkers in Homestead, Pennsylvania. The Amalgamated Iron and Steel Workers Union had called its members to go on strike at the Homestead steel plant owned by Frick and Andrew Carnegie. Frick took the controversial decision to hire three hundred strikebreakers from the Pinkerton Detective Agency, brought in on armed barges. The strikers were waiting for them and a day-long battle took place. Ten men were killed and sixty wounded before the governor declared martial law. After gaining entrance to Frick's office, Berkman shot him three times and stabbed him twice with a poisoned knife, but Frick survived the attack. Berkman was convicted of attempted murder and sentenced to twenty-two years' imprisonment, of which he served fourteen years, many of them in solitary confinement. He was released from prison in May 1906.
Upon regaining his freedom, Berkman — shattered and physically broken — joined Goldman as one of the leading figures of the anarchist movement in the US. From 1908 to 1915, he contributed to her paper Mother Earth, then from 1916 to 1917, briefly published his own in San Francisco, The Blast, and then joined forces with Goldman again with Mother Earth Bulletin. During this time, Berkman also lectured and taught, helped organize working and unemployed people, and campaigned for civil rights. Berkman wrote up his prison years in his stirring Prison Memoirs of an Anarchist which helped him come to terms with his horrendous experiences and gave him a new lease on life.
Soviet Russia
From 1914, Berkman and Goldman opposed the First World War, and from 1917, when the US entered, they campaigned against conscription, for which they were repeatedly imprisoned between 1917 and 1919. Berkman and Goldman were targeted during the Palmer Raids during the post-war Red Scare of 1919. They were deported, along with hundreds of other radicals of Russian origin, to the Soviet Union.
Both Goldman and Berkman supported the Bolsheviks when they came to power in the aftermath of the 1917 Russian Revolution, but during the two years they spent in the USSR, they gradually became disillusioned as the communist regime became increasingly repressive. The brutal suppression of the Kronstadt rebellion in March 1921 was the final straw and Berkman and Goldman moved to Germany.
Final years
In subsequent years, Goldman and Berkman led the libertarian critique of the Soviet Communist Party, denouncing what they saw as the betrayal of the revolution. While they helped persuade the main organizations of the international anarchist and anarcho-syndicalist movement not to participate in the Third International controlled by the Russians, their impact on the wider world was only partially successful. Producing a constant stream of articles, they tried to get this material published by the left-wing press, but the socialist and liberal papers and publishers refused to publish anything that would shake confidence in the left-wing Russian government. As part of this campaign, Berkman published The Bolshevik Myth in 1925, an account of his time in post-revolutionary Russia and his gradual disillusionment with the Bolsheviks. The book is admired both for its literary qualities as its documentary value.
Berkman spent his last years in France, eking out a precarious living as an editor and translator, despite his popularity as a speaker and writer. His main work during this period was Now and After: The ABC of Communist Anarchism, published in 1929. This book was later published under the name "What is Communist Anarchism?" and finally shortened to "What is Anarchism?". "What is Anarchism?" has become one of the most well known introductions to anarchism in print and arguably Berkman's best work.
Suffering from poor health, Berkman underwent two unsuccessful operations for a prostate condition. In constant pain and forced to rely on the financial help of friends, Berkman committed suicide in 1936, just weeks before the outbreak of the Spanish Revolution.
External links