Albert Ludwigs University of Freiburg
From Academic Kids
Template:Infobox German University Albert Ludwigs University of Freiburg was founded 1457 in Freiburg by the Habsburgs. One of the oldest universities in Germany, it has a long tradition of teaching the humanities, social sciences and natural sciences.
History
Missing image
Map_Freiburg_in_Germany.png
The university started with four faculties (theology, philosophy, medicine and law). At the founding, the university was named after Erzherzog Albrecht I.. In 1820 the future of the university was unsure, and Großherzog Ludwig von Baden saved it with a contribution. Since then the university is named Albert-Ludwigs-Universität.
In the 1880s the population of the student body and faculty started to grow quickly. Just before World War I the university counted 3,000 students. In the beginning of the 20th century several new university buildings were built in the centre of Freiburg. After WW II the university was re-opened. New buildings for natural science were erected in the Institutsviertel (institute quarter).
In the late 20th century, the university was part of a mass education campaign and expanded rapidly. The student body grew to 10,000 by the 1960s, and doubled to 20,000 students by 1980.
In the 1970s, the faculty structure was changed to 14 departments, with the Faculty for applied sciences becoming the 15th faculty in 1994. In 2002, the number of faculties was reduced to eleven.
Campus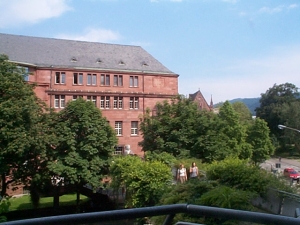 Having grown with the city since the 15th century, the university's buildings are deeply intertwined with the city of Freiburg. There are three large campuses scattered throughout the city (the university centre next to the historical city of Freiburg, the institutes quarter and the applied sciences campus), but other buildings can be found all over Freiburg.
Students
Today the university has a student population of around 20,000, including both undergraduate and graduate students. Approximately 10-15 % of these students are foreigners.
Faculty
In 2001 there were about 360 professors, 2,800 scientific employees and 7,700 non-scientific employees working for Freiburg University, making it one of Freiburg's biggest employers.
Organization
Missing image
Tw-freiburg-university-mensa.jpg
The university is headed by a rector and divided into 11 faculties:
It is part of the regional EUCOR federation with Karlsruhe, Basel, Mulhouse and Strasbourg.
Noted Alumni and Professors
External link