Airborne Warning and Control System
From Academic Kids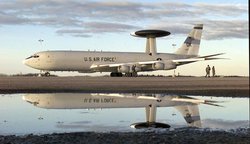 Missing image
BAE_Sentry_Upgrade.JPG
Airborne Warning and Control System (AWACS) is a radar-based electronic system designed to carry out airborne surveillance, and C3 (command, control and communications) functions for both tactical and air defence forces. The radome system is designed and built by Boeing (Defense & Space Group) using Northrop Grumman radar and flown on either the E-3 Sentry aircraft (Boeing 707) or more recently a modified Boeing 767.
Modern AWACS systems can detect aircraft from up to 400 km away, well out of range of any anti-air weapons. In air-to-air combat, AWACS systems can communicate with friendly aircraft, extend their sensor range and give them added stealth, since they no longer need their own active radar to detect threats.
These aircraft are used by the USAF, NATO, the RAF, France, Saudi Arabia, Israel, India and the Japan Air Self-Defense Force.
The USAF has an inventory of 33 E-3 Sentry aircraft, the majority of which are located at Tinker Air Force Base in Oklahoma. The Air Battle Manager Badge and the Weapons Director Badge are two Air Force badges which are authorized for personnel assigned to E-3 aircraft.
NATO also has 17 (originally 18, but one was lost due to an accident) E-3 Sentry aircraft, stationed in Geilenkirchen, Germany.
In USAF service, this role is to be taken over by the E-10 MC2A.
The U.S. Navy uses the Grumman E-2 Hawkeye for its Airborne Early Warning (AEW) missions. AEW aircraft offer a limited subset of capability.
In Soviet service, the Beriev A-50 "Mainstay" is an AWACS conversion of the standard Ilyushin Il-76 "Candid" strategic airlifter. Systems integration and radar performance are considered to be marketedly inferior to the E-3. Several foreign countries (Iraq, China, and India) have also used the Il-76 as the base platform for their own airborne radar needs.
The Royal Swedish Air Force use the S 100B Argus as their AWACS. The S 100B Argus is based on the Saab 340 with an Ericsson Erieye PS-890 radar.
Israel and India currently use the most advanced system in the world, Phalcon, with an Active Electronically Scanned Array. The Israeli version is on a Boeing platform and the Indian version is on an Il-76 platform.
Missing image
Radarvliegtuig(03).jpg
Related topics
External links
Template:Commonsda:AWACS de:AWACS ja:早期警戒管制機 pl:AWACS fi:AWACS sv:AWACS