Air ALM
From Academic Kids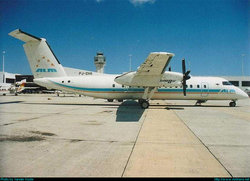 Air ALM was an airline from the Netherlands Antilles, flying out of Aruba, Bonaire, and Curaçao.
Code Data
History
Air ALM began as ALM, the Caribbean division of European giant KLM. KLM wanted to compete with Pan Am in the Caribbean and in South America and so created ALM, leasing the airline DC-8 jets so the airline could reach places like JFK International Airport in New York.
Eventually, ALM grew into a large Caribbean-area airline, with flights to Miami International Airport, to Trinidad and Tobago, and Santo Domingo. They also operated an intensive inter-island connection, flights to many large Venezuelan cities and flights to Luis Munoz Marin International Airport, then known as Isla Verde International, in Carolina, Puerto Rico. The Luis Munoz Marin route would become a staple of the airline. Except for a short period in the late 1980s, they served Luis Munoz until their bankruptcy.
Such expansion gave ALM the need for a smaller airplane that could efficiently cover short, international or domestic routes with good passenger loads. They therefore introduced the DC-9, among the smallest of the bigger airplanes available. The DC-9 proved efficient for the airline for two decades and the DC-8s were soon returned to KLM.
Political changes such as the independence of Aruba affected the airline: not only did they have to decrease their frequencies from the new country, but they also faced new competition in the shape of Air Aruba, another DC-9 operator that had a large share of passengers on Caribbean routes for many years. ALM during the 1990s grew disenchanted with their association with KLM, obtaining independence from the European airline a few years after the start of that decade, selling their DC-9s and settling for service as an all-propeller airline. The name change to Air ALM came after they were independent from KLM.
As Air ALM, they re-introduced services to Puerto Rico, and the flights to Venezuelan cities were kept. It is ironic that Air ALM went into direct competition with their creators at KLM during their later years, offering flights to Amsterdam with a partner airline.
Government and public uninterest drove the airline into bankruptcy. By 2001, some of Air ALMs airplanes were broken-up near Curaçao's airport, and no one was willing to buy the airline. Late in 2002, the Curaçao regional Government announced interest in creating a substitute to Air Alm.
Copyright note
Photo copyrighted by, and courtesy of, Mr. Xander Koote