Australian Aboriginal art
From Academic Kids
Australian Aboriginal art refers to art done by Australian Aborigines, covering art that pre-dates European colonisation as well as contemporary art by Aborigines based on traditional culture. It is not restricted to merely paintings, but includes a wide variety of mediums including wood carving, sculpture and ceremonial clothing. To an extent, Aboriginal art also includes artistic embellishments found on weaponry and tools.
Art was one of the key elements of Aboriginal culture. Artwork was used to mark territory, record history, and tell stories. Rare ochres for paints were traded throughout northern Australia.
Aboriginal painting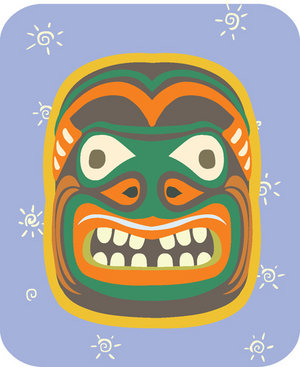 Traditionally, paints were often made from water or spittle mixed with ochre and other rock pigments. Painting was then performed on persons, rock walls or bark (particular that of the paperbark gum). Tools used included primitive brushes, sticks, fingers and even a technique of spraying the paint directly out of the mouth onto the medium resulting in an effect similar to modern spraypaint.
There are a wide variety of styles of Aboriginal art. Three common types are X-ray art, in which the skeletons and viscera of the animals and humans portrayed are drawn inside the outline, as if by cross-section; dot-painting where intricate patterns, totems and/or stories are created using dots; and stencil art, particular using the motif of a handprint. More simple designs of straight lines, circles and spirals, with the occasional zig zag persist throughout the work of Australian Aborigines. These are thought to be the origins of "modern" Aboriginal Art.
Bark painting
The barest necessities for bark artwork are paint, brushes, bark, fixative and a fire. The bark chosen must be free of knots and other blemishes. It is best cut from the tree in the wet season when the sap is rising. Two horizontal slices and a single vertical slice is made into the tree, and the bark is then carefully peeled off with the aid of a sharpened tool. Only the inner smooth bark is kept and placed in a fire. After heating in the fire, the bark is flattened under foot and weighed with stones or logs to dry flat. The "canvas" is then ready to paint upon.
After the painting is completed, the bark is splinted at either end to keep the painting flat. A fixative, traditionally orchid juice, is added over top.
Carvings and sculpture
Mimih (or Mimi) small man-like carvings of mythological impish creatures. Mimihs are so frail that they never venture out on windy days lest they be swept away like leaf litter. If approached by men they will run into a rock crevice, if no crevice is there, the rocks themselves will open up and seal behind the Mimih.
Other art
Sand designs in desert areas of central Australia.
Religious and cultural aspects of Aboriginal art
Traditional Aboriginal art almost always has a mythological undertone relating to the Dreamtime of Australian Aborigines. It originated around 500 years ago. Many modern purists will say if it doesn't contain the spirituality of aborigines, it is not true aboriginal art.
Story telling and totem representation feature prominently in all forms of Aboriginal artwork. Additionally the female form, particularly the female womb in X-ray style features prominently in some famous sites in Arnhem Land
Graffiti and other destructive influences
Many culturally significant sites of Aboriginal rock paintings have been gradually desecrated and destroyed by encroachment of early settlers and modern-day visitors. This includes the destruction of art by clearing and construction work, erosion caused by excessive touching of sites, and worse yet, graffiti. Many sites now belonging to National Parks have to be strictly monitored by rangers, or closed off to the public entirely.
Famous sites of Aboriginal art