Zaporozhian Host
From Academic Kids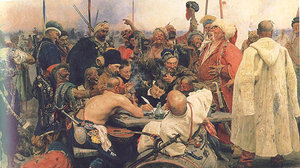 The Zaporozhian Host or Zaporozhian Voisko (Template:Lang-ua, Zaporoz'ke Vois'ko, sometimes translated Cossack Army), also called Zaporizhian Sich after its fortified capital, was a political, social, and military organization of Ukrainian (Ruthenian) Cossacks, from the 16th to the 18th centuries. It was established in the central Ukrainian territory called Zaporizhzhia, below the rapids of the river Dnieper. Its appearance challenged the authority of the Polish-Lithuanian Commonwealth. The Host was formally recognized as a state by treaty with Poland in 1648. It went through a series of conflicts and alliances involving Poland, the Tatars, and Muscovy, then came under the protection of Muscovy after the Treaty of Pereyaslav in 1654.
The Zaporozhian Host was led by a hetman and the supreme government body called the Sich Rada. The most famous hetmans were Bohdan Khmelnytsky, Petro Sahaidachny, Pylyp Orlyk, and Ivan Mazepa. Cossack society was semi-militarized. Their territory was organized into regimental districts (polky), further subdivided into company districts (sotni) and villages (stanytsi). Senior officers were the starshyna.
After the Treaty of Pereyaslav in 1654, the Host became at least nominally a part of the Russian Empire, although for a long time it enjoyed nearly complete autonomy. Under Russia, the Host comprised the Cossack Hetmanate of Left-bank Ukraine, and Zaporozhia, centred around the fortress, Zaporizhian Sich. It was called Little Russia by the Russians.
Cossacks fought for their independence from Poland, and later began several uprisings against the Russian Tsar. Gradually, their state lost its autonomy, and was eventually abolished by Empress Catherine the Great.
The Cossacks spread throughout the Russian Empire, and were encouraged to settle on the frontiers. They formed seven voiskos (Don, Semirechinsk, Terek, Zabaikalskae, Zaporozhskoe, Kuban', Ural). Cossacks became some of the most loyal troops in the Empire until the revolution, when most Cossacks sided with the Red Army.
It is not fair to regard Zaporizhian Cossacks as drunken rebels and anarchists. At the turn of the 18th century, the Zaporozhian Host was ahead of several Eastern and Western European countries in terms of literacy. Schools were to be found in most villages. Ukrainian Cossacks were known as well-educated people. Hetmans Bohdan Khmelnytsky, Petro Sahaidachny, and Ivan Mazepa knew several languages.
See also