Yona
From Academic Kids
"Yona", "Yonaka" or "Yavana" is a Pali word used in ancient India to designate Greeks. It is a transliteration of the word "Ionian", who were probably the first Greeks to be known in the East.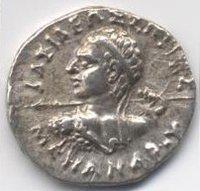 This usage was shared by many of the country east of Greece, from the Mediterranean to India and China:
In Indian sources, the usage of the words "Yona", "Yonaka", "Yavana" or "Javana" appears repeatedly, and particularly in relation to the Greek kingdoms which neighboured or sometimes occupied the Indian sub-continent over a period of several centuries from the 4th century BCE to the 1st century CE, such as the Seleucid Empire, the Greco-Bactrian kingdom and the Indo-Greek kingdom.
Buddhist text Mahaniddesa (pp 155, 415) speaks of Yona and Paramayona, probably referring to Archosia as the Yona and Bacteria as the Paramayona.
Some of the better known examples are those of the Edicts of Ashoka (c. 250 BCE), in which the Buddhist emperor Ashoka refers to the Greek populations under his rule. Rock Edicts V and XIII mention the Yonas or the Greeks with the Iranian Kambojas as a subject people forming a frontier region of his empire and attest that he sent envoys to the Greek rulers in the West as far as the Mediterranean, faultlessly naming them one by one.
Another example is that of the Milinda Panha (Chap.I), where "Yavana" is used to refer to the great Indo-Greek king Menander (160 – 135 BCE), and to the guard of "500 hundred Greeks" that constantly accompanies him.
On the 110 BCE Heliodorus pillar in Vidisha in Central India, the Indo-Greek king Antialcidas, who had sent an ambassador to the court of the Sunga king Bhagabhadra, was also qualified as "Yavana".
Several references to the Greeks can also be found in ancient Indian literature. In the Mahabharata, they are described as "the all-knowing Yavanas" ("Sarvajnah Yavanah", Mahabharata VIII.45.36). Another Indian text explains that "The Yavanas are barbarians yet the science of astronomy originated with them and for this they must be reverenced like Gods" (Gargi-Samhita).
The terms "Yona", "Yonaka" or "Yavana" later took on a wider meaning to include all westerners visiting India.
See also
Greco-Buddhism
History of Buddhism
Kambojas

References
"The shape of ancient thought. Comparative Studies in Greek and Indian philosophies", by Thomas Mc Evilly (Allworth Press, New York 2002) ISBN 1581152035
External link
Pali dictionary definition of "Yona" (http://www.palikanon.com/english/pali_names/y/yonaa.htm)
---
"Yona" is also also a Hebrew word for Jonah