Yann Martel
From Academic Kids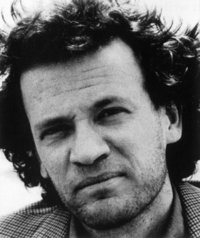 Yann Martel (born June 25, 1963) is a Canadian author.
A scholarship for his Canadian father to do his doctorate in Spain resulted in Yann Martel being born there in 1963. His father's occupation as a teacher and then a diplomat meant that Yann lived in various places including Alaska, Costa Rica, France, Mexico, and in the Canadian provinces of Ontario and British Columbia.
As an adult, he continued to travel the globe, spending time in Iran, Turkey and India. After studying philosophy at Trent University in Peterborough, Ontario, at age 27 he embarked on a writing career. Living or visiting many cultures influenced his writing, providing the rich cultural background mix in Life of Pi that garnered him the prestigious 2002 Booker Prize for fiction. To write Life of Pi, Martel spent six months in India visiting mosques, temples, churches and zoos, and then an entire year reading religious texts and castaway stories. After the research, the actual writing required two more years.
Life of Pi was chosen for Year 2003 edition of CBC Radio's Canada Reads competition, where it was championed by author Nancy Lee. In addition, its French translation, Histoire de Pi, was included in the French version of the competition, Le combat des livres, in 2004, championed by singer Louise Forestier.
Martel spent a year in Saskatoon, Saskatchewan from September 2003 as the public library's writer-in-residence. He now lives in Montreal, Quebec and has recently collaborated with Canadian composer Omar Daniel, composer-in-residence at the Royal Conservatory of Music in Toronto, on a piece for piano, string quartet and bass. The composition, You Are Where You Are, is based on text written by Martel, which includes parts of cellphone conversations taken from moments in an ordinary day.
Bibliography
Literary awards