William Cohen
From Academic Kids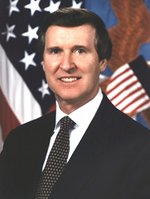 William Sebastian Cohen (born August 28, 1940) is a Republican politician from Maine who served as a United States Secretary of Defense under President Clinton.
Born in Bangor, Maine, Cohen attended public school, receiving his B.A. from Bowdoin College in Brunswick; and his law degree from Boston University.
An attorney and law professor before entering politics, Cohen begun being elected to Bangor City Council (1969-1972). He was also elected to the Bangor School Board (1970-1971) and then Mayor of Bangor in 1971. In 1972 he ran successfully for the U.S. House seat being vacated by Democrat Bill Hathaway.
After three terms in the United States House of Representatives, he was elected to the United States Senate in 1978, defeating Bill Hathaway in his first bid for reelection. Cohen went on to be reelected in 1984 and 1990 and served from 1979 to 1997. Both of Maine's current senators, Susan Collins and Olympia Snowe, worked for him. Snowe worked for him while he was in the House and Collins while he was in the Senate. Cohen retired from the Senate in 1996 and Collins was elected to succeed him.
Missing image
Bill_Clinton_William_Cohen.jpg
From 1997 to 2001, Cohen served as Secretary of Defense in the cabinet of President Bill Clinton, who was from the rival Democratic Party. As Defense Secretary he played a large role in directing the United States military actions in Iraq and Kosovo, including the dismissal of Wesley Clark from his post as NATO Supreme Allied Commander.
Cohen is also the author of several books, including mysteries, poetry, and (with George Mitchell) an analysis of the Iran-contra affair. Michael Moore spent an episode of his television show The Awful Truth chasing after Cohen to ask him whether his poetry-writing made him too much of a "wimp" to run the Pentagon.
Cohen is currently head of an international business consulting firm located in Washington D.C. called the Cohen Group (http://www.cohengroup.net/).
His second wife is former Black Entertainment Television commentator Janet Langhart.