Scaled Composites White Knight
From Academic Kids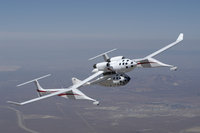 The Scaled Composites Model 318 White Knight is a jet-powered carrier aircraft used to launch the SpaceShipOne experimental spacecraft. It was developed by Scaled Composites as part of their Tier One program. The aircraft will also be used for drop tests of the X-37 spaceplane starting in 2005. The White Knight is named after X-15 pilots Robert M. White and Pete Knight.
This article is about flights made by White Knight. For information on the design of White Knight and its intended usage, and on related projects and commercial ventures, see the separate article on Tier One.
History
The Scaled Composites model number of White Knight is 318. White Knight is registered with the Federal Aviation Administration as N318SL.
White Knight first flew on August 1 2002. The flight was aborted shortly after takeoff due to a problem with the outboard spoilers. These were auxiliary spoilers to improve roll control when landing with crosswind. They were designed to be pneumatically actuated. During the first flight, low air pressure turned out to be sufficient to suck the spoilers out of their recesses. This reduced lift, thus increasing the ambient air pressure and allowing the spoilers to spring back, restoring lift. This occurred cyclically, causing vibration of the airframe, and the pilot decided to abort. The spoilers were subsequently disabled completely, rather than fixed, as they were deemed unnecessary.
White Knight next flew on August 5 2002, and this time performed well. Development proceeded over the next few months. With White Knight developed and evaluated, on April 18 2003 White Knight and SpaceShipOne were presented to the media.
All later flights of White Knight have all been as a productive element of the Tier One program. See that article for a description of White Knight's duties.
On September 2, 2004 it was reported that White Knight would be used to launch DARPA's experimental X-37 spaceplane for its approach and landing tests, probably starting in early 2005.
Characteristics
White Knight is powered by two General Electric J85-GE-5 turbojets.
Flights carrying SpaceShipOne
Flights of White Knight are numbered, starting with flight 1 on August 1 2002. Flights where SpaceShipOne is carried also get one or two appended letters. An appended C indicates that the flight was a captive carry, and L indicates that SpaceShipOne was launched. If the flight actually flown differs in category from the intended flight then two letters are appended, the first giving the intended mission and the second the mission actually performed.
External links