West Backa District
From Academic Kids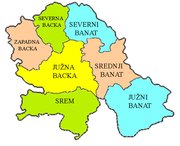 West Bačka District (Serbian: Zapadnobački okrug, Hungarian: Nyugat Bácskai Körzet, Slovak: Západnobáčsky okres, Croatian: Zapadnobački okrug, Romanian: Districtul Backa de Vest) is a northern district of Serbia. It lies in the region of Bačka, in the autonomous province of Vojvodina.
It encompasses the municipalities of:
It has a population of 215,916. Seat of the District is in the city of Sombor.
District population is composed of: Serbs (62%), Croats, Bunjevci, Hungarians, Rusyns, Slovaks, Montenegrins, and others.
Sombor is the town of rich cultural tradition: the Roman-Catholic church and the Franciscan Monastery from the eighteenth century, the Perish House originating from the early nineteenth century, the iconostasis of the Big and Small Orthodox church in Stapar are protected monuments registered as cultural heritage, which bare witness to the long history of this town.
Today the municipality of Sombor has 1,000 km² of agricultural land, out of which 970 km² makes up the arable land. Besides farming, also cattle raising plays an important part.
Still more dynamic development is achieved in industry, with the prevailing "Bane" metal complex, the Sombor battery factory, the "Crvena zastava" van factory, the "Dunav" shipyard, and particularly food industry which with the capacities of its "Sunce" oil factory and "Somboled" diary, carries out entirely all the processing of the agricultural yield.
Official website: http://www.zapadnobackiokrug.org.yu
Note: All official material made by Government of Serbia is public by law. Information was taken from official website (http://www.serbia.sr.gov.yu/).sr:Западно-Бачки округ