Webster Groves, Missouri
From Academic Kids
Webster Groves is a city located in St. Louis County, Missouri. As of the 2000 census, the city had a total population of 23,230.
In the 1960s it was featured in the CBS documentary 16 In Webster Groves and its high school has, more recently, been profiled in Time Magazine. Webster Groves also maintains the oldest football rivalry west of the Mississippi River with Kirkwood, Missouri. Webster has won most of the Turkey Day games, which have been played nearly continuously on Thanksgiving since 1907.
It is the former home of Jonathan Franzen, author of The Corrections. Webster Groves serves as both subject and backdrop in his novels and short stories. It was the setting for the short-lived TV series "Lucas Tanner" (1974-5), which starred David Hartman.
Geography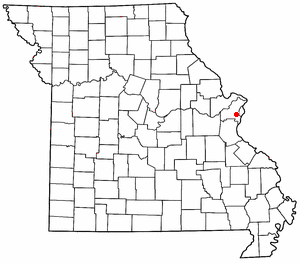 Webster Groves is located at 38°35'16" North, 90°21'16" West (38.587702, -90.354366)Template:GR.
According to the United States Census Bureau, the city has a total area of 15.3 km² (5.9 mi²). 15.3 km² (5.9 mi²) of it is land and none of it is covered by water.
History
Ten miles southwest of Saint Louis was an area known to Missouri, Osage Nation and Dakota Indians and fur trappers until 1802 as the "Dry Ridge." In the early 1800's, this region, once a part of the Louisiana Territory, was changing from Spanish to French ownership and a system of land grants was inaugurated to promote immigration. Remember that during the early period of Spanish rule, officials gave land to settlers as a check against the English.
As part of this program, in 1802 Gregorie Sarpy was granted 6,002 acres (24 km²) by Charles de Hautte Delassus, the last Spanish Lieutenant governor. The land grant covered the major area now known as Webster Groves.
Webster Groves' location on the Pacific Railroad line led to its development as a suburb. In the late 19th century, overcrowding, congestion, and unhealthy conditions in Saint Louis prompted urban residents to leave the city for quieter, safer surroundings. In 1892 the developers of Webster Park, an early housing subdivision, promoted the new community as the "Queen Of The Suburbs," offering residents superb housing options in a country-like atmosphere, as well as a swift commute to downtown Saint Louis jobs.
As a suburban municipality, Webster Groves has its origins as five separate communities along adjacent railroad lines. Webster, Old Orchard, Webster Park, Tuxedo Park, and Selma merged in 1896 in order to implement public services and develop a unified city government. Since that time, Webster Groves' tree-lined streets and abundance of single family homes have continued to attract people to the area as a "great place to live, work and play," not solely for the wealthy commuter suburb that early developers envisioned but for families that cut across all socioeconomic boundaries. The geographic and economic diversity of Webster Groves is evident in the variety of neighborhoods and its successes is rooted in the cooperation and willingness of community members from all walks of life to work together toward common goals.
Demographics
As of the censusTemplate:GR of 2000, there are 23,230 people, 9,498 households, and 6,145 families residing in the city. The population density is 1,520.2/km² (3,937.5/mi²). There are 9,903 housing units at an average density of 648.1/km² (1,678.6/mi²). The racial makeup of the city is 90.87% White, 6.38% African American, 0.17% Native American, 1.21% Asian, 0.01% Pacific Islander, 0.31% from other races, and 1.05% from two or more races. 1.25% of the population are Hispanic or Latino of any race.
There are 9,498 households out of which 31.0% have children under the age of 18 living with them, 53.9% are married couples living together, 9.0% have a female householder with no husband present, and 35.3% are non-families. 30.6% of all households are made up of individuals and 15.4% have someone living alone who is 65 years of age or older. The average household size is 2.39 and the average family size is 3.03.
In the city the population is spread out with 24.9% under the age of 18, 7.4% from 18 to 24, 26.7% from 25 to 44, 23.7% from 45 to 64, and 17.3% who are 65 years of age or older. The median age is 40 years. For every 100 females there are 84.8 males. For every 100 females age 18 and over, there are 79.4 males.
The median income for a household in the city is $60,524, and the median income for a family is $73,998. Males have a median income of $57,801 versus $38,506 for females. The per capita income for the city is $31,327. 4.8% of the population and 2.0% of families are below the poverty line. Out of the total population, 5.0% of those under the age of 18 and 3.5% of those 65 and older are living below the poverty line.
External links