Walla Walla, Washington
From Academic Kids
Walla Walla is the county seat of Walla Walla County, Washington, USA. As of the 2000 census, the city had a total population of 29,686Template:GR. Walla Walla is in the southeastern region of Washington, approximately 4.5 hours by car from Seattle, Washington.
Whitman College, Walla Walla Community College, and the Washington State Penitentiary are located in Walla Walla. Walla Walla College is located in the adjacent town of College Place, Washington.
In an episode of The Simpsons, Krusty the Klown mentioned this city, along with Cucamonga, Keokuk, and Seattle, as funny place names. Warner Brothers "Bugs Bunny" also mentioned this town in a couple of its episodes; "Wishie-Washie-White-Washing Machine Salesman from Walla Walla Washington".
Missing image
Walla_walla.jpg
History
On September 1, 1836, Narcissa Whitman, one of the first white women to settle west of the Rocky Mountains, arrived at Walla Walla, along with her husband Marcus Whitman. Here they established the Whitman Mission in an unsuccessful attempt to convert the local Walla Walla tribe. Both were killed by natives following a disease epidemic. Whitman College was established in their honor.
Walla Walla was officially incorporated on January 11, 1862. As a result of a gold rush, during this decade the city became the largest community in the territory of Washington. Following this period, agriculture became the city's primary industry.
Though wheat is still a big crop, vineyards and wineries have become economically important. Leonetti Cellars was one of the first wineries in Walla Walla and produces sought after merlot and cabernet sauvignon. In early 2005, there were 63 wineries in the greater Walla Walla area.
Transportation
Transportation to Walla Walla includes service by air from Seattle (via Horizon/Alaska Air) and highway access primarily from U.S. Highway 12. Washington State DOT is currently (2004) beginning the long-term process of widening this road into a four-lane divided highway between Pasco, Washington and Walla Walla. The city is also served by a local bus system.
Geography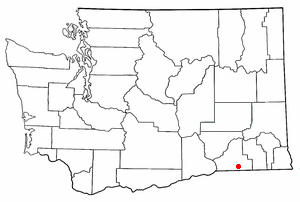 Walla Walla is located at 46°3'54" North, 118°19'49" West (46.065094, -118.330167)
Template:GR
.
According to the United States Census Bureau, the city has a total area of 28.0 km² (10.8 mi²). 28.0 km² (10.8 mi²) of it is land and 0.1 km² (0.04 mi²) of it is water. The total area is 0.18% water.
Demographics
As of the censusTemplate:GR of 2000, there are 29,686 people, 10,596 households, and 6,527 families residing in the city. The population density is 1,059.3/km² (2,744.9/mi²). According to the census ther are 11,400 housing units at an average density of 406.8/km² (1,054.1/mi²). The racial makeup of the city is 83.79% White, 2.58% African American, 1.05% Native American, 1.24% Asian, 0.23% Pacific Islander, 8.26% from other races, and 2.85% from two or more races. 17.42% of the population are Hispanic or Latino of any race. It is important to note that these are not entirely accurate numbers as the local population has a large number of Hispanic migrant workers and undocumented workers who work on mushroom and onion farms. Some estimate they constitute 35% to 40% of the actual population.
Of the 10,596 counted households, 30.6% have children under the age of 18 living with them, 46.4% are married couples living together, 11.0% have a female householder with no husband present, and 38.4% are considered non-families by the U.S. government. 31.9% of all households are made up of individuals and 15.1% have someone living alone who is 65 years of age or older. The average household size is 2.44 and the average family size is 3.08.
In the city the population is spread out with 21.8% under the age of 18, 14.2% from 18 to 24, 26.5% from 25 to 44, 17.5% from 45 to 64, and 20.1% who are 65 years of age or older. The median age is 34 years. For every 100 women there are 108.4 men. For every 100 females age 18 and over, there are 109.1 males. About 7% of the population is homosexual or bisexual. About 87% of the population is Christian, while 3% of the area is Wicca.
The median income for a household in the city is $31,855, and the median income for a family is $40,856. Men have a median income of $31,753 versus $23,889 for women. The per capita income for the city is $15,792. 18.0% of the population and 13.1% of families are below the poverty line. Out of the total population, 22.8% of those under the age of 18 and 10.5% of those 65 and older are living below the poverty line.
Famous People From Walla Walla
Historical Populations
External links