Viktor Yanukovych
From Academic Kids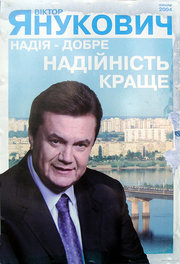 Viktor Fedorovych Yanukovych (Russian: Виктор Федорович Янукович, Ukrainan:Янукович Віктор Федорович 1) (born July 9 1950 in Yenakiieve, Donets'ka oblast') was Prime Minister of Ukraine from November 21, 2002 to December 31, 2004 and current leader of Ukrainian Party of Regions. He was appointed prime minister after previously serving as governor of Donets'ka oblast' in the east of the country. Yanukovych was declared the winner of the Ukrainian presidential election of 2004, held on October 31 and November 21, 2004. However, the legitimacy of his official victory was questioned by many Ukrainians, international organisations, and foreign governments. The Ukrainian parliament, the Verkhovna Rada, passed a non-binding motion of no confidence in his government on December 1, 2004, urging outgoing president Leonid Kuchma to dismiss Yanukovych and appoint a caretaker government. Several days later, the Supreme Court of Ukraine annulled the results of November 21 voting, resulting in a second official run-off election. On December 26, 2004, opposition leader Viktor Yushchenko was declared winner of that election. Five days later, Yanukovych declared his resignation.
Biography
Yanukovych was born in the working class neighborhood of Makiivka to a family of Belarusian immigrants. As a teenager, he was orphaned and was brought up by his grandmother.
In 1968 and 1970, Yanukovych (according to officials) was convicted and imprisoned for robbery and bodily injury. It was recently announced that he was acquitted in 1978, although without documentation.
In 1972, Yanukovych became an electrician in a local bus company and later finished tehnikum. In 1980, he graduated (by correspondence) from Donets'k Polytechnic Institute, where he qualified as a mechanical engineer. Immediately after that, Yanukovych was appointed chief manager of a transportation company in Yenakiyeve (Donets'ka oblast') and admitted to the Communist Party of the Soviet Union. This was the start of a quick management career in regional automotive transport. Yanukovych's political career began when he was appointed Head of State Administration (i.e., oblast' government) of Donets'ka oblast', in 1997.
In 2001, he graduated from the Ukrainian Academy of Foreign Trade as a Master of International Law. Later, Yanukovych was granted the titles of Doctor of Science and Professor.
His primary language is Russian, which is by far the dominant language in the eastern parts of Ukraine, and Crimea. Publication of his handwritten documents revealed that he made numerous spelling mistakes in Ukrainian; in particular, he was unable to write his title, position or wife's name, properly.
Yanukovych has been long patronized by Georgi Beregovoi, a Soviet cosmonaut of Ukrainian background. Being, then, the Soviet member of parliament for Donbas, Beregovoi was said to be protecting an unjustly convicted youngster and promoting his further career.
Yanukovych has been accused by his opponents of being connected to local organized crime since the late 1980s and being its lobbyist up to national-level politics. Indeed, he is closely linked to the so-called "Donets'ky" clan (eastern-ukranian based business and political group) and its leader Rinat Akhmetov, (Ukraine's richest tycoon). These businessmen are often regarded as having connections to organized criminal, even though there has been no judicial conviction. It should be noted that it is believed that the whole Ukrainian (and, generally, post-Soviet) business community, especially large entrepreneurs-non taxpayers, are in some way linked to organized crime. Hence, it might be unfair to state that one given businessman or corporation is either totally free from criminal influence or controlled by it. Yanukovych's opponents also allege he is in secret co-operation with the KGB (which supposedly started during his imprisonment). Proponents of this version argue that as, an ex-convict, he couldn't enter the institute, travel to the West and later make a career for himself unless being protected by some "shadow force" more powerful than a local MP. There is no documented proof for such allegations, however.
Belongs to the Members of the Russian Orthodox Church.
Yanukovych is married and has two children. Hobbies include (at least included in youth) auto racing and sports (boxing in particular).
Political portrait and 2004 Presidential Election and Resignation
Officially, the cabinet of Viktor Yanukovych was proclaimed the first ever coalition government of the country, formed and backed by a majority in the Verkhovna Rada (Ukraine's parliament). The unity of that parliamentary majority (commonly perceived as pro-president, not pro-government) has been tenuous, and it finally broke apart in the summer of 2004. Despite that, Yanukovych's cabinet did not resign.
Viktor Yanukovych is a representative of a regional political group closely linked to big business. His supporters are officially organized in the "Party of Regions" (Ukrainian: Партія Регіонів, Partiya Rehioniv) based mostly in Donbas. When he was the governor, he advocated increased local authority and national budget reform in favor of the provinces. Donets'ka oblast', despite leading in Ukraine's economy, is suffering much from depression in the coal mining industry. When Yanukovych became prime minister of Ukraine, the average economic growth rose to 12 percent a year, making Ukraine a major economic leader of Europe. Due to regional political traditions, Yanukovych was very active in promoting paternalistic slogans regarding social care and public subsidies for crisis-affected companies to ensure employment and production of the high-technological wares. In recent months, his government announced the tremendous increase of social benefits, especially pensions for the retired. Critics say that was a dangerous populist move, while the government argued that it had only found an appropriate strategy of budgetary receipts and expenditures based on continuing economic growth.
Another notable part of Yanukovych's political creed has been advocating closer relations with Russia and special rights for the Russian language in Ukraine. Since the south-eastern regions are predominantly Russian-speaking, this question is permanently raised and politicized. Ukrainian (the official language) is promoted rather poorly across the country. At the beginning of his presidential campaign, Yanukovych tried to present himself as a leader of the whole nation. In particular, he started to use Ukrainian in public and demonstrated his loyalty to the western (Ukrainian-speaking and opposition-dominated) regions. As a prime minister, he also attempted to promote relations with the EC based on greater equality and distinctness. Later the strategy was changed (for several reasons) and Yanukovych began to favor tighter integration with Russia, making Russian a second official language and criticizing the West. He also began confronting "Ukrainian nationalism" and criticizing western Ukrainian regions.
As a public politician, Yanukovych presents the image of a straightforward "tough guy" populist, sticking to simple effective decisions and discipline. If elected, he would have been the first urban-born leader of independent Ukraine (the previous two presidents and his main rival Viktor Yushchenko, who won the election, have come from the countryside).
In his campaign, Yanukovych was unofficially backed by President Leonid Kuchma (and the rest of authorities) and was widely perceived as his "heir" (although Kuchma never admitted or stated so). His main opponent and opposition leader, Viktor Yushchenko, was thought to favor the promotion of Ukrainian national culture and the development of closer relations with the West. The first round of voting on October 31 resulted in no candidate receiving a majority, so a second round was held on 21 November 2004.
The second round of voting resulted in Yanukovych being declared the victor by the Ukrainian election commission, with 49.42% of the vote, compared with Yushchenko's 46.7%. The declaration sparked protests from opposition supporters who claimed that the election was rigged. [1] (http://www9.sbs.com.au/theworldnews/region.php?id=99531&region=3) After the opposition declared the beginning of a wave of general strikes and sit-ins called the Orange Revolution, the Verkhovna Rada, bowing to domestic and international pressure, declared the results invalid. Although this action was not legally binding, it was eventually followed by a second run-off in December. On December 26, 2004, Yushchenko was declared winner of this second run-off.
On New Year's Eve, 2004, Yanukovych declared his resignation, stating, "I believe it is impossible to have any position in a state that is ruled by such officials. This is my personal position." He vowed to appeal the results of the election, but added that he did not have much hope.
Notes
1. Though Yanukovych is a native speaker of Russian, his patronymic and surname are usually transliterated as though they were Ukrainian: Fedorovych Yanukovych, which in Russian are Fedorovich Yanukovich. His personal name in Ukrainian would be 'Віктор'.
See also
External link