Vickers Warwick
From Academic Kids

The Vickers Warwick was a transport, anti-submarine patrol and air-sea rescue aircraft of the RAF during World War II.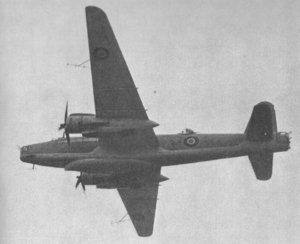 The Warwick was designed in response to Air Ministry specification B.1/35 for a two-engined heavy (by the standards of the day) bomber to replace the Wellington. However the prototype orders were cancelled in 1936 when it was decided to standardise on four engined bombers. Vickers-Armstrong completed two prototypes anyway, one with Rolls-Royce Vulture water-cooled engines, not persisted with because of production difficulties, and one with the air-cooled Pratt & Whitney installation.
The Warwick utilised the geodetic construction method pioneered in the Wellesley and Wellington. Structural members of duralumin were covered by wired-on fabric. 219 Warwick Is were built, the last 95 with 2,000 hp (1,500 kW) R-2800-47 engines.
Vickers' persistence paid off when the Warwick was ordered by Coastal Command as an anti-submarine reconnaissance type. From 1943 Warwicks were loaded with the 1,700 lb (770 kg) Mk. IA lifeboat and flown in an air-sea rescue role. The lifeboat, laden with supplies and powered by two 4 hp (3 kW) motors, was aimed with a bomb-site near to ditched air-crew and dropped into the sea from about 700 ft (320 m). Warwicks were credited with rescuing crews form Halifaxes, Lancasters, Wellingtons and Fortresses, and during the Arnhem landings from Hamilcar gliders.
Variants
The Warwick II was equipped to carry torpedoes or bombs, and powered by 2,520 hp (1,880 kW) Bristol Centaurus VII engines. 132 built.
The Warwick III was a transport development. It had a pannier-like extension below the central fuselage, the normal loaded weight being raised to 45,000 lb (20,400 kg). No armament was carried. 100 built.
The Warwick V was an anti-submarine patrol aircraft. It was powered by Centaurus VII engines, armed with 7 machine guns and could carry 6,000 lb (2,700 kg) of bombs, mines or depth-charges. It arrived too late to see active service. 210 built.
Specifications (Warwick I)
General characteristics
Crew: six
Length: 72 ft 3 in (22.00 m)
Wingspan: 96 ft 8 in (29.50 m)
Height: 18 ft 6 in (5.6 m)
Wing area: 1,006 ft² (93.5 m²)
Empty: lb ( kg)
Loaded: 38,000 lb (17,230 kg)
Maximum takeoff: 46,000 lb (20,860 kg)
Powerplant: 2x Pratt & Whitney R-2800/S.1A4-G Double Wasp radials, 1,850 hp (1,380 kW) each
Performance
Maximum speed: 244 mph (393 km/h)
Range: miles ( km)
Service ceiling: 19,000 ft (5,800 m)
Rate of climb: ft/min ( m/min)
Wing loading: 38 lb/ft² (184 kg/m²)
Power/mass: 0.10 hp/lb (160 W/kg)
Armament
8 x .303 (7.7 mm) Browning machine guns
Related content
Related development:
Comparable aircraft:
Designation sequence: