VfB Stuttgart
From Academic Kids
Template:Football club infobox Verein für Bewegungsspiele Stuttgart 1893 ("Club for Athletic Games Stuttgart 1893"), known as VfB Stuttgart, is a football club in Stuttgart, founded on September 9, 1893 as Stuttgart FV 93. Eventually, the Stuttgart FV 93 merged with Kronen-Club Cannstatt on April 2, 1912 and subsequently changed its name to VfB Stuttgart 1893 . The decisive club meeting, where the merger was approved, took place at the "Concordia" hotel in Cannstatt (a city district of Stuttgart). The club colors are white and red.
VfB Stuttgart competes with its team in the Bundesliga, the German top national football league. In addition the club operates departments for athletics, fistball, hockey and table tennis.
The home ground of VfB Stuttgart is the Gottlieb-Daimler-Stadion ("Gottlieb Daimler Stadium"), which was built in 1933. It lies close to the River Neckar on Stuttgart's Mercedes Street. The stadium can hold a max. capacity of 54,088 spectators, (international matches: 50,000). Currently, the stadium is being extended. After completion, the stadium will have a maximum capacity of about 57,000 spectators (international matches: 54,500) and will be one of the hosts for the Template:Wc (6 matches, i.a. 3rd place play-off).
Important people
Missing image
VfB_Stuttgart_coin.jpg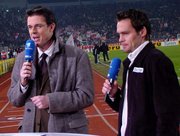 Roster 2005/06
Goal: Timo Hildebrand, Dirk Heinen
Defense: Steffen Dangelmayr, Andreas Hinkel, Philipp Lahm, Fernando Meira, Boris Zivkovic, Martin Stranzl, Mathieu Delpierre, Markus Babbel
Midfield: Zvonimir Soldo, Silvio Meissner, Heiko Gerber, Christian Tiffert, Aliaksandr Hleb, Horst Heldt, Jurica Vranjes, Emanuel Centurión, Tobias Rathgeb, Marco Caliguri, Thomas Hitzlsperger
Offense: Jeronimo Cacau, Marco Streller, Mario Gomez
Prominent former and current players
Greatest achievements
Württemberg champions

1927 (Württemberg/Baden), 1930, 1935, 1937, 1938, 1941
Bundesliga Position
External links

Template:1. Bundesligade:VfB Stuttgart ja:VfBシュトゥットガルト sv:VfB Stuttgart