Veronica Lake
From Academic Kids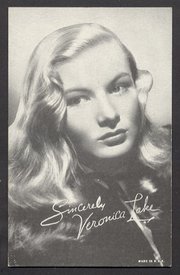 Veronica Lake (14 November 1919 – 7 July 1973) was a popular American film actress, most famous during the 1940s. She was born in Brooklyn, New York with the name Constance Frances Marie Ockleman.
Lake popularized an iconic hairstyle, with one of her eyes always obscured by her blonde hair. During World War II she changed her trademark hairstyle to get her hair out of her eyes as a publicity move to encourage women working at war industries to adopt more practical hairstyles.
Her noted movies included Sullivan's Travels, This Gun for Hire, I Married a Witch, The Glass Key, So Proudly We Hail!, and The Blue Dahlia. After the early 1950s, she rarely appeared on screen. She also co-produced and starred in 1970's Flesh Feast, an infamous low-budget horror film that was to be her swan song.
Veronica Lake died of hepatitis in Burlington, Vermont at the age of 53.
Filmography
External links
---
Veronica Lake is also the name of a fictional lake located near the small town of Frostbite Falls, Minnesota (a parody of International Falls) on the animated Rocky and Bullwinkle Show.