U.S. presidential election, 1904
From Academic Kids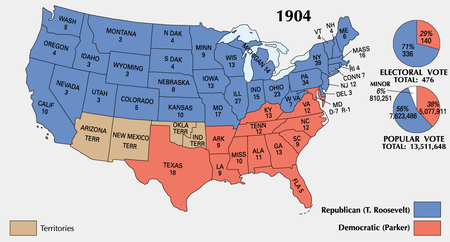 The U.S. presidential election of 1904 was held on November 8, 1904.
The incumbent President, Theodore Roosevelt, faced an early primary challenge from Mark Hanna, but this did not last long; Hanna died on February 15, 1904. Roosevelt was easily nominated.
The Democrats nominated Alton B. Parker. Unlike the 1896 election, the Democrats decided to advocate the gold standard this time, but Parker, winning only the southern states, was still not able to win the general election. Roosevelt won in a relative landslide.
General election
Results
Template:Start U.S. presidential ticket box Template:U.S. presidential ticket box row Template:U.S. presidential ticket box row Template:U.S. presidential ticket box row Template:U.S. presidential ticket box row Template:U.S. presidential ticket box row Template:U.S. presidential ticket box row Template:End U.S. presidential ticket box (a) Template:U.S. popular vote total disclaimer
See also