U.S. presidential election, 1848
From Academic Kids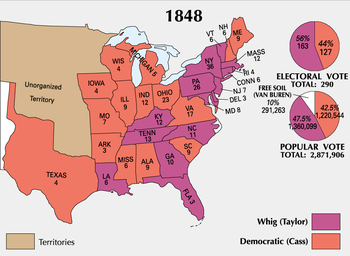 The U.S. presidential election of 1848 was an open race. President James Polk, having achieved virtually all of his objectives in one term and suffering from declining health that would take his life less than four months after leaving office, chose not to seek re-election.
With the exception of South Carolina, who left the selection of electors to its legislature, the election of 1848 marked the first time in which every state in the union voted for President and Vice President on the same day: November 7, 1848. Taylor won election over Cass, capturing 163 of the 290 electoral votes cast.
Nominations
Whig Party nomination
Mexican War General Zachary Taylor of Louisiana, spurred by his successes on the battlefield but who had never voted in an election himself, was openly courted by both the Democratic and Whig parties. Taylor ultimately declared himself a Whig, and he would be given their nomination, receiving 171 delegate votes to defeat Henry Clay, Winfield Scott, Daniel Webster and others. Millard Fillmore received the party's nomination as Vice President.
Democratic Party nomination
The Democrats countered by nominating Lewis Cass, who had served as Governor and Senator for Michigan, as well as Secretary of War under Andrew Jackson, and from 1836-1842 as ambassador to France. General William Orlando Butler was nominated to join Cass on the ticket, garnering 169 delegate votes to defeat five other candidates, including future Vice President William Rufus deVane King and Confederate President Jefferson Finis Davis.
Free Soil Party nomination
A third party, the Free Soil Party, was organized for the 1848 election to oppose further expansion of slavery into the western territories, and hopefully the abolition of slavery itself. Led by Salmon P. Chase and John P. Hale, former President Martin Van Buren defeated John Parker Hale by a 154-129 delegate count to capture their nomination, while Charles Francis Adams was chosen as the Vice Presidential nominee.
General election
Results
Template:Start U.S. presidential ticket box Template:U.S. presidential ticket box row Template:U.S. presidential ticket box row Template:U.S. presidential ticket box row Template:U.S. presidential ticket box row Template:End U.S. presidential ticket box (a) The popular vote figures exclude South Carolina where the Electors were chosen by the state legislature rather than by popular vote.
(b) Template:U.S. popular vote total disclaimer
See also
Template:Uspresidentialelections
References
External links